DIY White iPhone 4S /4 Sticker Skin Mod Kit
UPDATE: iPhone 5 skins coming soon.
White Apple iPhone 4S /4 Front Back Mod Kit
Want a white iPhone 4 but don't want to wait? You can now mod your jesus phone with our white iPhone 4 DIY kit, while keeping your warranty intact! These iPhone 4 skins are removable and are made to create the elusive and exclusive white iPhone 4 look.
Works on all versions of iPhone 4S and iPhone 4.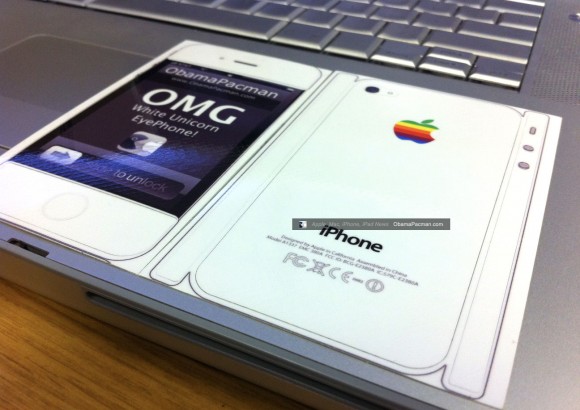 White iPhone 4 Kit Covers Back, Front, & Side!
The $16.45 white iPhone 4 conversion kit even comes with free, optional front and side stickers (covers sides, not top or bottom), with cut out for volume and vibration switch. The side stickers prevents iPhone 4 signal attenuation from antenna bridging, for those not using their phone with a case.
About Us: ObamaPacman has been selling Mac / iPad pacman stickers to Apple users for years, and you can buy securely using your credit card or PayPal account. We are PayPal verified.
Shipping of this product from OP is cheaper than the other place, so overall it's cheaper to order here for everyone. You can also order with our other sticker product, with no ($0) additional for shipping.
---
Apple Retro Rainbow Logo + Modern Black Logo
There are two versions of our "OMG, White Unicorn EyePhone Kit!" sticker skin mod. Buy now! Ships to US and world-wide (over 190 countries):
White iPhone 4 Skin, Apple Retro Rainbow Logo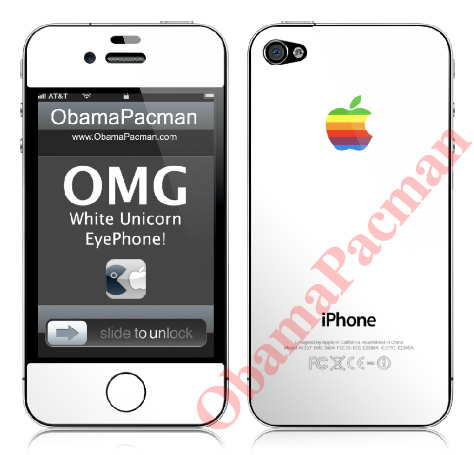 Order now to show off your retro rainbow Apple logo and protect your iPhone 4s and iPhone 4!
---
White iPhone 4 Skin, Apple Modern Black Logo
Order now to show off the modern black Apple logo and protect your iPhone 4s and iPhone 4!
---
White iPhone 4 Mod Features
Yes, it's a specialty protective skin from ObamaPacman that gives your new iP4 the rare white unicorn iPhone 4 look!
Our iPhone skin uses Patented 3M adhesive which is easy to apply, and leaves no residue. The adhesive even allows you to reposition the skin for a perfect fit.
Our iPhone skin protects your iDevice with a durable anti-scratch, UV-resistant coating.
The skin has a slight texture (same as gelaskins). The special texture of the skin prevents air bubbles from forming and allows for clean removal.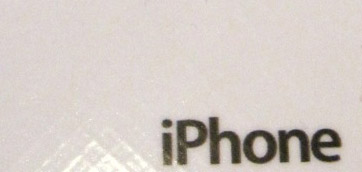 Why order through ObamaPacman?
The ObamaPacman white iPhone 4 skin has the most accurate text / logo placement available.
As to the other versions floating around, some are pretty far off from the real iPhone 4. Example, we haven't seen anyone got this right yet, but here are our high resolution iPhone 4 back symbols: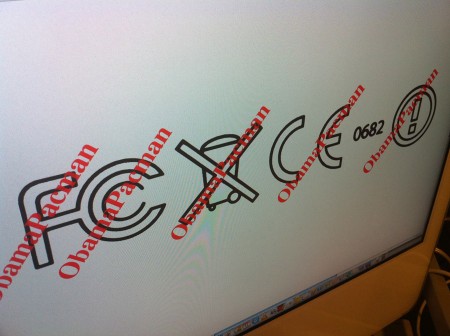 The only difference between this and the Apple iPhone 4 is that this is the 1337 model instead of the A1332 model number. (Yes we know the iPad is elite but the white iPhone is even more so).
Oh and it's slight cheaper to order here for your total order, because we have lower shipping prices.
Price + Shipping
They are priced at $16.45 each. Shipping:

You can also order together with Obama Pacman sticker for Mac / iPad without additional shipping charges.
When Will My Order Ship?
They are in stock now. Once payment clears (usually same day of order) usually ships in 1 business day.

---