How to Download YouTube Videos (5 Step Guide)
Here how to download YouTube videos on Mac OS X in high quality MP4 format, not Flash.
Option 1: on a Mac, download ClipGrab, available free (Works great for downloading Vimeo videos too!)
Option 2: Firefox plugin. Being browser based, the following five step "How to download YouTube videos guide" works for Apple computers running Mac OS X, Linux, and PC running Windows.
Install YouTube Video Downloader (Mac + Linux + PC)
Our main browser is Safari, but Firefox is good for this purpose. Quick 5 step guide:
1. Get FireFox at mozilla (choose proper version for your OS)
2. Download and install Video DownloadHelper here at mozilla
If you only want to download Flash videos from YouTube, go to step 4.
Enable YouTube MP4 Video Download
Before recent YouTube changes, all mp4 files show up at this point too, but now you need to some extra steps to download MP4 videos from YouTube:
3. How to turn on YouTube MP4 widget within video DownloadHelper
3a) Go to Tools Menu / Add-Ons
3b) Select Extensions / DownloadHelper / Preferences (Preference is "Options" on PC)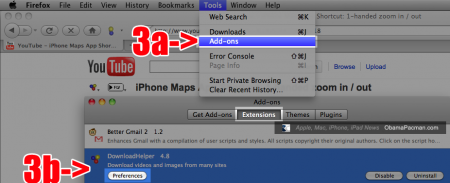 3c) Then go to: Capture / YouTube
CHECK "Show widget to switch FLV/MP4 formats from within YouTube pages" so it's like this: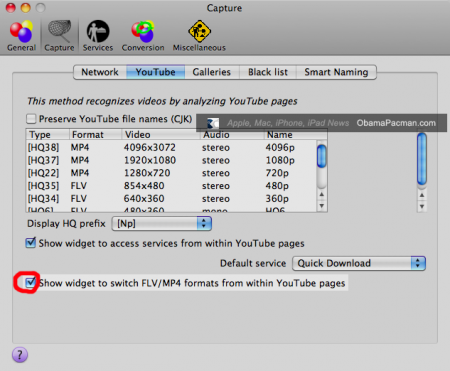 How to Download YouTube Videos
4. Go to YouTube site, click on triangle (not the 3 colored balls), and you should see a drop down: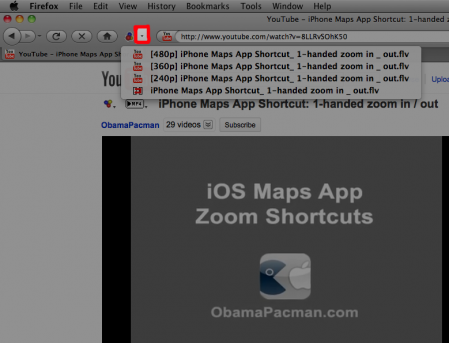 TIP: Point Firefox downloads to a separate folder instead of the standard user download folder. Boom, now you got a video only folder!
If you see list of both mp4 and flv downloads then you are done. Download whichever one you like, probably the 720p MP4 if available, because it's compatible with modern mobile devices. However, some YouTube videos only show flv (Flash) files, then you need the next step.
5. You've enabled the MP4 widget in step 3. Now you need to enable MP4 for the individual video.
5a. Click on the MP4 widget, the page should refresh. Now click the pull down triangle from step 4.

5b. If you have flash blocker installed, you need to load the video before the MP4 video download option would appear.
Try it with this YouTube video
Note: Sometimes you need to repeat step 5 with new videos, but it's only a few clicks. Occasionally Google / YouTube will break compatibility with the plugin. Whenever Google breaks the download plugin, the plugin is usually updated within a week or two.
---
How to Download YouTube Video Using Safari
You can also use Apple Safari to download YouTube videos. Just start playing the video and go to "Window" menu / Activity. Look for the largest file, typically video are in MB, while the rest of the site are in KB.
Limitations:
Downloads YouTube videos in flash, requires transcoding
Hard to find video when too many tabs are open
There might also be Safari plug-ins that do the same thing. Let us know if you know of any.

---