Unlocked iPhone FAQ
You have unlocked your Apple iPhone. Now how do you get it to work on your carrier?
(Make sure you read the "Keep iPhone Unlocked" section below!)
iPhone Unlock FAQ
How to Swap iPhone SIM Card?
To put in a sim card in your unlocked iPhone, get a paperclip. Press straight and down into the SIM card holder hole. (Some iPhone 3GS, iPhone 3G box might contain a SIM eject tool, but a paperclip would do).

The first time you put in an unofficial SIM card it might take a minute to recognize. Instead of "No Service" your iPhone should display your SIM card carrier (such as T-Mobile) when the new SIM card is recognized.
No Data Plan? Turn Off iPhone Cellular Data Usage
If you have mobile data plan, than skip this section.
If you do not have a cellular mobile data plan, then turn off cellular data to avoid data charges:
Go to iPhone: Settings / General / Network: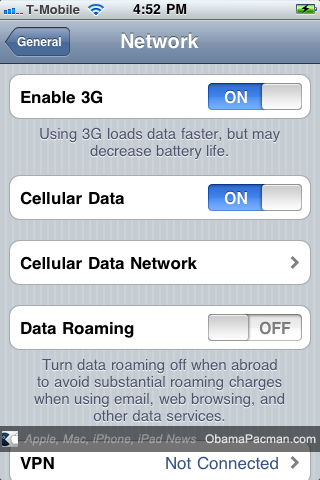 Click on "Cellular Data" so it says Off. (Note: the mini sliders actually don't slide.)
The relevant option only shows up if you got a SIM card that supports cellular data.
No 3G Coverage / Using T-Mobile USA
In an area without 3G coverage?
On T-Mobile USA?
In that case, you can turn off the iPhone 3G antenna to get even longer iPhone battery life. Go to the same screen as above to turn on / off your 3G connectivity, by clicking on "Enable 3G" so it says Off. (Note: the mini sliders actually don't slide.)
T-Mobile USA does not use the standard GSM spectrum, thus most standard GSM devices won't function at 3G speed on T-Mobile network in U.S.
How to Get Mobile Internet on Unlocked iPhone?
If you have a mobile internet or cellular data plan, but your unlocked iPhone cannot access the web or any data services, you can search online or ask your carrier for the "APN settings."
Under: "Settings / General / Network" screen (image above), you should see "Cellular Data Network."
Enter APN information under "Cellular Data Network" screen. Some carriers might have the iPhone APN entry screen disabled. In that case, you should download an APN edit app from Cydia.
IMPORTANT: Keep iPhone Unlocked
To keep your iPhone unlock, follow these thee rules:
Rule #1: do not update iPhone software through iTunes
Rule #2: do not update iPhone software through iTunes
Rule #3: read rule no. 1 and 2
iTunes will ask you to install new iPhone software. However, because your iPhone is software unlocked, updating using Apple iPhone software will erase the unlock, or worst you would have to wait many many months until a new form of unlock comes out.
So, when you see this: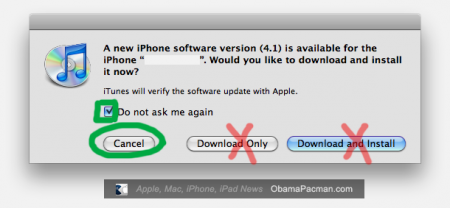 1. Check "Do not ask me again"
2. Click "Cancel"
Note: You will get asked again when a new firmware comes out (for example 4.1.1 or later), repeat 1 and 2.
What's iPhone Unlocking
Unlocking a phone allows you to use GSM SIM Cards from unsupported carriers. In the U.S. AT&T iPhones can use T-Mobile SIM cards when unlocked.
Use the Unlock iPhone Guide
Unlock iPhone For Verizon, Sprint?
Can you unlock iPhone to use on Verizon, Sprint, or CDMA carriers?
iPhone uses international GSM standard which is compatible with most mobile carriers around the world. However, you cannot unlock iPhone / GSM phone for Verizon or Sprint, because they use CDMA and don't use SIM cards.
In an unrelated note, CDMA also doesn't have GSM voice + data multitasking. (So those verizon / sprint 3G phones are crippled).

---