How to export Fitbit data to Apple Health
Use both Apple Watch and Fitbit? Want to export Fitbit data to Apple Health, or to sync data from Apple Health to Fitbit? There's an iPhone app for that.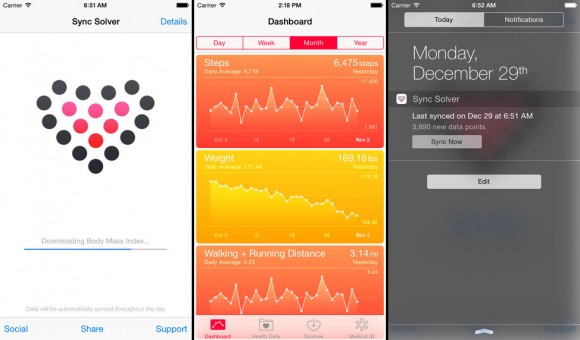 The Fitbit app doesn't connect to Apple Health / HealthKit. It's issue if you are trying upgrade to the new Apple Watch. It's also an issue for those who have both devices but wear Fitbit for contact sports such as basketball:
(A shame I can't get "credit" for this in Health, but can't wear Apple Watch while playing hoops. Big limitation of smartwatch fitness.)

— Dan Frakes (@DanFrakes) June 6, 2015
The App Store got you covered. These apps would let you export or import data between Fitbit and Apple Health:
To export Fitbit data -> import to Apple Health, get Sync Solver for Fitbit. After the first sync, the app will automatically sync in the background throughout the day. There's also a widget to sync manually.
To export Apple Health data -> import to Fitbit, get Sync Solver – Health to Fitbit. Note that data types are more limited, and special Fitbit account might be required for some data types.
Data types supported for Fitbit export with "Sync Solver for Fitbit":
- Steps
- Flights Climbed
- Walking + Running Distance
- Weight
- Body Fat Percentage
- Body Mass Index
- Sleep Analysis (In bed and asleep time)
- Dietary Calories
- Resting Calories
- Active Calories
Few issues:
- Fitbit has not added Heart Rate to their API for data export yet.
- Fitbit currently provides access to daily data only.
- If you are using both apps, be sure to not sync the same data types.
But overall people who used the app are happy with the results.
Thanks to @joelhousman for the tip.

Related Posts