EXIF / GPS Viewer for iPhone, iPad and iPod touch
Want a no frills way to read the iPhone camera EXIF / GPS data or remove iPhone photo GPS EXIF data? There's an Universal app for that.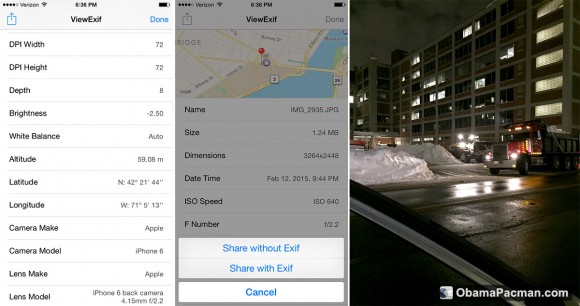 View EXIF is actually an iOS extension. But it's easy enough to use. Requires iOS 8. Universal app works for iPhone, iPad, and iPod touch.
Besides reading file GPS, dimensions, size, ISO speed, F Number, exposure time, camera model, the app can even remove EXIF data such as GPS location! Within the extension, you can choose to share photos with or without Exif.
View EXIF iOS app is free download today. How to use View EXIF extension:
Open Photos app
Select Share sheet
Tap the More button, and turn on View EXIF extension
Once you do that the View EXIF extension will now appear in your share sheet. Also works in apps such as Dropbox and Google Drive.

Related Posts