Magical: Billy Joel and Jimmy Fallon uses iPad app to form 2-Man Doo-Wop Group
Magical iPad is musical.
The Tonight Show Starring Jimmy Fallon (YouTube video via The Loop):
"Jimmy and Billy Joel loop their voices on an iPad app to form a 2-man doo-wop group — singing "The Lion Sleeps Tonight" by The Tokens in 4-part harmony."
They used Loopy HD, an Universal App designed for iPhone, iPad, and iPod touch. The app is developed by one man shop A Tasty Pixel. The app is normally $7.99 but it's on sale right now at $3.99, half off!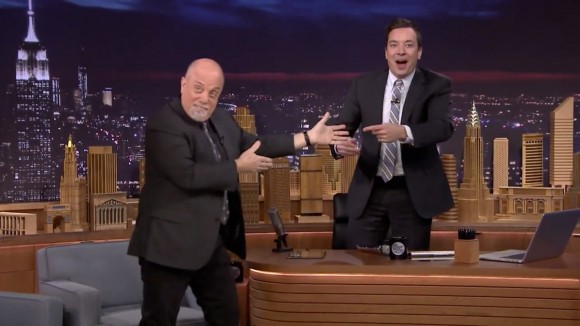 Why is the sound quality so great?
Neil Hughes reported that the iPad is using one Mac and iPad compatible Apogee Quartet
for sound input / output, connected to the iPad using a Lightening cable. I guess the iPad sound card is probably right under Jimmy's desk.

Related Posts