Apple introduces CarPlay on Ferrari, Mercedes-Benz, and Volvo
Most car manufacturers already support Apple iOS in the Car. Moving the pock even further, Apple introduces next generation iPhone and car integration today.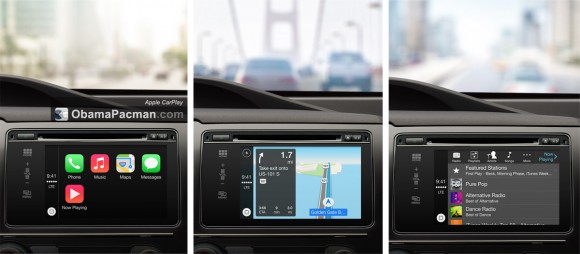 Apple has a decade of experience working with car manufacturers. First with iPod integration, and more recently with "iOS in the Car." Today, at the Geneva International Motor Show, Apple announced its next generation car integration called CarPlay:
"leading auto manufacturers are rolling out CarPlay, the smarter, safer and more fun way to use iPhone in the car. CarPlay gives iPhone users an incredibly intuitive way to make calls, use Maps, listen to music and access messages with just a word or a touch. Users can easily control CarPlay from the car's native interface or just push-and-hold the voice control button on the steering wheel to activate Siri without distraction."
CarPlay will work with voice (Siri voice control), touch on cars with touchscreen, and physical controls on cars with knobs, dials, and buttons that controls the display.
As to availability of Apple CarPlay, Apple's press release and this iOS CarPlay page states:
Ferrari, Mercedes-Benz, Volvo will "premiere CarPlay to their drivers" this week
Honda, Hyundai, and Jaguar coming later this year
On future models from these partners: BMW, Chevrolet, Ford, Kia, Land Rover, Mitsubishi, Nissan, Opel, PSA Peugeot Citroen, Subaru, Suzuki, and Toyota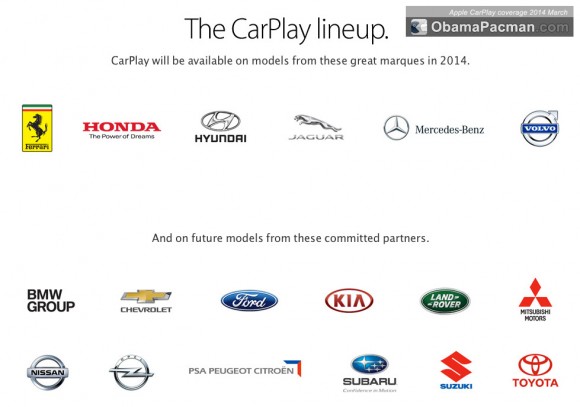 That means if you just ordered a new car, it will not have CarPlay on it. But of course, most cars without CarPlay support can connect to any iPhone through bluetooth.
I suspect CarPlay will be as easy to use as AirPlay. From the look of it, CarPlay integration will be released on Thunderbolt iPhones such as the 5S, 5C, and the 5. It'll perhaps be introduced with iOS 7.1 or iOS 8.
What about third party app CarPlay support? It seems that initially it'll be Apple made apps and select iOS radio apps such as Spotify, Sticher, iHeart Radio, and Beats Radio. So, third party developers don't have to worry about adding support to their apps (I think it'll go with the Apple TV partnership model where selected developers can add CarPlay integration).
Meanwhile, Microsoft's touchscreen for Ford failed miserably in the market. Despite its "openness," Android is getting very little traction with its car integration, with support from only one handful of car manufacturers adding support.

Related Posts