Using OS X Mavericks? Update to 10.9.2 now!
Update now to fix the goto fail SSL security bug if you are using Mac OS X 10.9.0 or 10.9.1. Download the Mavericks 10.9.2 combo updater here.
Just days after Apple released the goto fail ssl vulnerability fix for iOS 7 and 6, the fix is released to OS X Mavericks in terms of OS X 10.9.2 update.
The bug provides potential for man in the middle (mitm) attack for those using public WiFi and other untrusted / unsecured networks. The problem was introduced in 10.9.0. Other versions of OS X such as 10.6.8, 10.7.5, 10.8.5 are not affected, ObamaPacman confirmed.
The 10.9.2 update also provides other fixes and features: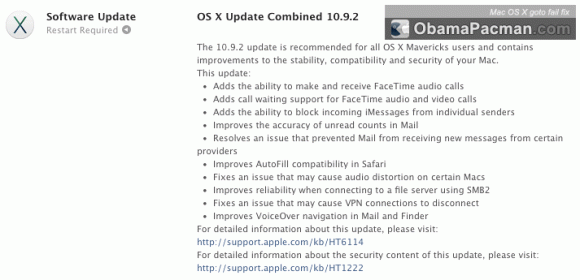 To update, go to Apple Menu and click "Software Update." After the download, the update requires a restart and few minutes for installation.
OS X Mavericks 10.9.2 Combo Update Download
Those with an office full of Macs might want to download the OS X Mavericks 10.9.2 Combo Updater (820MB download) once and distribute it internally. The Mavericks Combo Updater will update any computer running Mavericks version 10.9.0 and 10.9.1.
Meanwhile, most "open" devices are limited from getting updates for the Android mitm remote code execution security vulnerability and other problems.

Related Posts