iOS screenshot annotation app Bugshot + BugshotKit [app freebie]
Creator of Instapaper, Marco Arment, made this app for developers to annotate screenshots. And he released an open-source embeddable version for iOS developers!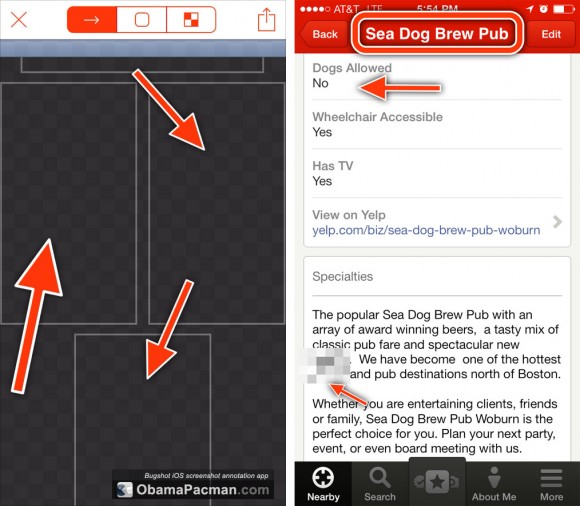 Bugshot App
Normally $0.99, download Bugshot [Universal iOS app] for free right now.
Bugshot allows designers, developers, and testers to quickly add arrows, draw boxes, blur out personal data, or have some unnecessary censorship fun on iPhone, iPad, and iPod touch screenshots.
Pro Tip from ObamaPacman: double tap on any object to remove it.
The app elegantly displays fairly large thumbnails of your screenshots, about 4 per page. Once annotated, the screenshot can be saved to camera roll, emailed, Tweeted, AirDropped, or shared to other apps such as Dropbox via the "Open In…" action box.
Open source embeddable Bugshot Kit
Is Bugshot an App Store viral hit? Marco reported on the financial side of the project in the Bugshotkit article. Spoiler: the app didn't made him rich.
So in the course of developing his own podcast app "Overcast," Marco decided to open source an embeddable version that can be used for beta tester bug reports.
"I'm starting the Overcast beta soon, and I wanted an easy way for my testers to report (non-crash) bugs and provide UI feedback. I also wanted a way to remind myself of UI or feature ideas easily, and I've occasionally needed to view the error console on the device when tracking down difficult bugs.

BugshotKit addresses all of these: it's an embeddable Bugshot annotation interface and console logger, invoked anywhere in your app by an otherwise unused gesture (e.g. a two-finger swipe up, a three-finger double-tap, pulling out from the right screen edge, etc.), that lets you or your testers quickly email you with helpful details, screenshots, and diagnostic information."
You can download the open source Bugshot Kit on this github project page.

Related Posts