Better than Flappy Bird: Badland action puzzle platformer
This game can eat Flappy Bird for breakfast — fly, roll, and bounce flappy winged clone heads in the challenging game that won the 2013 Apple Design Award. Updated with new levels for Valentine's Day.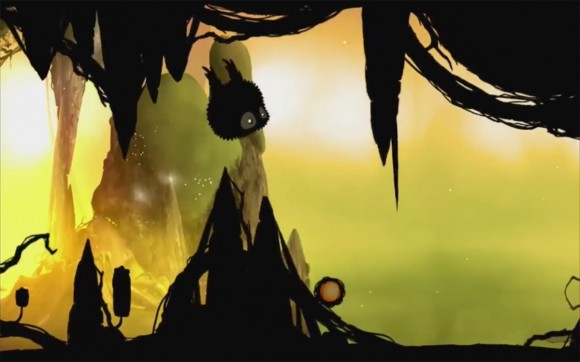 If you *only* play games with bad collision detection and glitches caused by developer's poor programming skills, than this is not the game for you.
But if you enjoy a well made side scrolling game with excellent physics, beautiful artwork, and steady level progression, checkout Badland.
Here's what I wrote about Badland last fall.
The levels are varied with various puzzles and flappy clone head altering / reality bending power-ups, but thankfully there are autosave checkpoints in most levels. Some short levels require you to beat it in one try and test your reaction time. Beat the game? You can try to earn three eggs in every level. These optional challenges gets difficult quickly.
You can download Badland iOS game [Universal app] for 50% off right now at $1.99 (instead of $3.99). The game was originally iOS only but recently an Android version was released for free with In App Purchase. The Android In App Purchase is currently 50% off as well.
The 11th free update to the game was released for iOS yesterday, Feb 11, 2014. What's new in Badland version 1.90:
New friendly multiplayer level in which co-operating with your friends is recommended
New lovely main menu theme
iOS7 Game Controller Support
* includes support in multiplayer mode for combined use of touching and controllers
Flappy Bird in Badland
Bonus: here's what happens when Badland developers placed Flappy Bird in Badland. This version is not publicly available, but I think they should release something like it. Come on, who wouldn't want a non-glitchy Flappy Bird that can be cloned and destroyed?
At the very least, the developer might want to add a few keywords, such as some quotes from this article, to benefit a bit from Flappy Bird madness.

Related Posts