Al "Bubba" Baker: former NFL pro and entrepreneur uses Mac
Al "Bubba" Baker, an NFL player for 13 years with Rookie of the Year and All-Pro distinctions, uses a Mac in his BBQ business and entrepreneurial pursuit.
After his NFL career, Al Baker started Bubba's Q BBQ restaurant. With 20 years of BBQ experience, Bubba and his daughter developed and patented their secret de-boned baby back rib steak. They got two patents, one for the product and one for the process.
Here's Bubba Baker, his restaurant, his NFL Baker 60 jersey and his 13″ Apple MacBook Pro: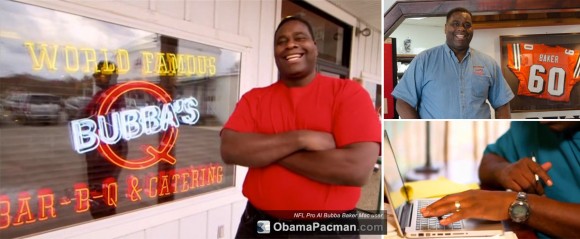 Al "Bubba" Baker was recently on the business show Shark Tank seeking investment. Here's the audition pitch that got Bubba and his daughter on the ABC show:
See how they did on Shark Tank Season 5 episode 11 aired on December 6, 2013. Here's a preview of the show:
Besides Bubba's Q BBQ, that episode also featured:
SpiritHoods, producer of faux fur hats with integrated headphones and gloves
Virtuix, producer of the $500 Omni omnidirectional treadmill that works with 3D glasses Oculus Rift. Fully funded on Kickstarter, they aim to turn FPS into a real workout.
Fohawx, two moms who sell colorful kid's helmet accessories that look like colorful mohawks
You can visit Bubba's Q BBQ restaurant at Avon, Ohio or order some of their products online.
I wonder if 3 times Super Bowl champion Patriots star quarterback Tom Brady and his supermodel wife Gisele Bundchen will start their own business in the future? Perhaps selling Brady's SuperBowl winning secret sauce?

Related Posts