99% mobile malware in 2013 targeted Android devices – Cisco
Android is definitely winning the malware targetting benchmarks, according to Cisco.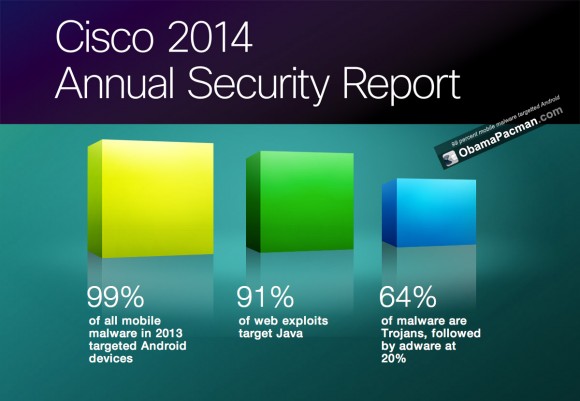 Apple VP Phil Schiller tweeted this Cisco 2014 Annual Security Report minutes ago. The report:
"According to Cisco TRAC/SIO researchers, when mobile malware is intended to compromise a device, 99 percent of all encounters target Android devices. Trojans targeting Java Micro Edition (J2ME)-capable devices held the second spot in 2013, with 0.84 percent of all mobile malware encounters. […]

Cisco TRAC/SIO researchers also reported evidence of efforts to monetize Android compromises during 2013, including launches of adware and small and medium-size enterprise (SME)-related spyware."
Besides adware and spyware, Android malware often takes advantage of the rampant piracy:
"At 43.8 percent, Andr/Qdplugin-A was the most frequently encountered mobile malware, according to Cisco TRAC/SIO research. Typical encounters were through repackaged copies of legitimate apps distributed through unofficial marketplaces"
What an open wasteland. Here's a breakdown of Android malware by type: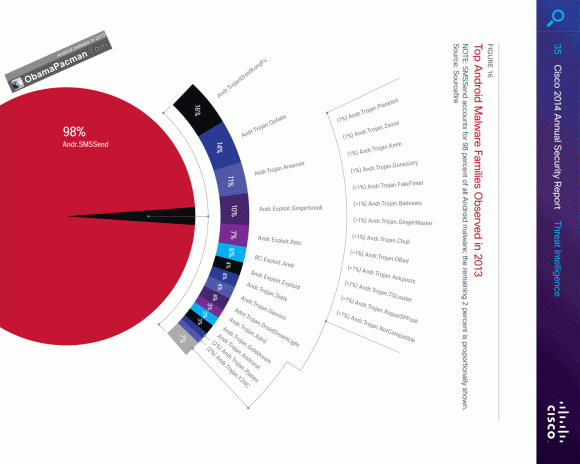 The Cisco 2014 Annual Security Report also examined threats such as web exploits, spam, and phishing. Web exploit compromise type consists of:
91% Java Compromise
3% Adobe Reader
3% Microsoft Excel
2% Microsoft Word
1% Microsoft PowerPoint
The report also provided some security recommendations.
What about the Web Malware Encounters by Mobile Device chart that shows Android at 71% and iPhone at 15%? Here's what Cisco wrote:
"Not all mobile malware is designed to target specific devices, however. Many encounters involve phishing, likejacking, or other social engineering ruses, or forcible redirects to websites other than expected. An analysis of user agents by Cisco TRAC/SIO reveals that Android users, at 71 percent, have the highest encounter rates with all forms of web-delivered malware, followed by Apple iPhone users with 14 percent of all web malware encounters."
Perhaps Cisco included the chart so that clueless Fandroids will consider that a win for their robot collective.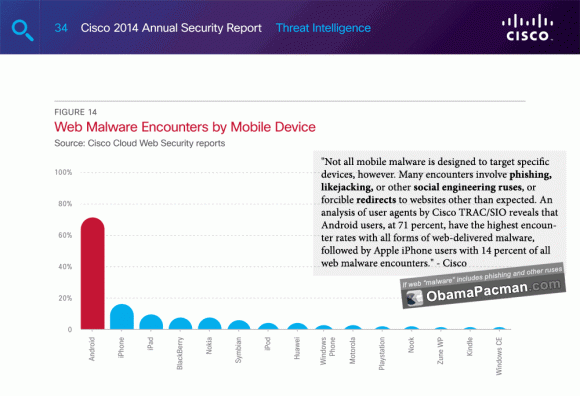 Phil Schiller previously highlighted Android malware problem last year.
The United State government Departments of Homeland Security and FBI came to a similar conclusion about the Android threat last summer.

Related Posts