Harvard-Smithsonian Center for Astrophysics: iPad helps students learn science
Study examines effect of iPad vs. traditional classroom instruction.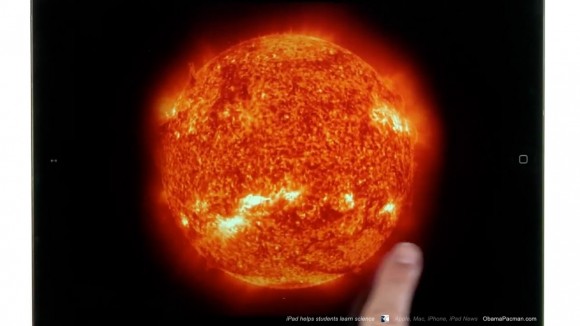 A new study by Smithsonian researchers at the Harvard-Smithsonian Center for Astrophysics shows that students grasp the unimaginable emptiness of space more effectively when they use iPads to explore 3-D simulations of the universe, compared to traditional classroom instruction. […]

'Since we began using iPads, we have seen substantial gains in learning, especially in subjects like math and science,' says Henry Turner, Principal.
The study was conducted at Bedford High School in Bedford, Massachusetts. Students used second generation iPads with Solar Walk app ($2.99 Universal App for iPad, iPhone, and iPod touch). Here's a video demo of Solar Walk:
The study is published in the January 2014 issue of Computers & Education. I found an open access version on Science Direct (#26 on that page):
Conceptualizing astronomical scale: Virtual simulations on handheld tablet computers reverse misconceptions Original Research Article
Pages 269-280
Matthew H. Schneps, Jonathan Ruel, Gerhard Sonnert, Mary Dussault, Michael Griffin, Philip M. Sadler
Solar Walk is available for iOS and Mac. Not available on Android or Windows devices.
Meanwhile, Windows tablet remains an "unmitigated disaster."

Related Posts