iOS 7 untethered jailbreak [Mac & Windows Tutorial]
The team that released iOS 6 jailbreak is at it again!
iPhone 5S, iPhone 5c, iPad Air, and Retina iPad mini received its first jailbreak today. With no prior warning, the iOS 7 jailbreak made a surprise release today for newest Apple A7 and other iOS 7 compatible devices.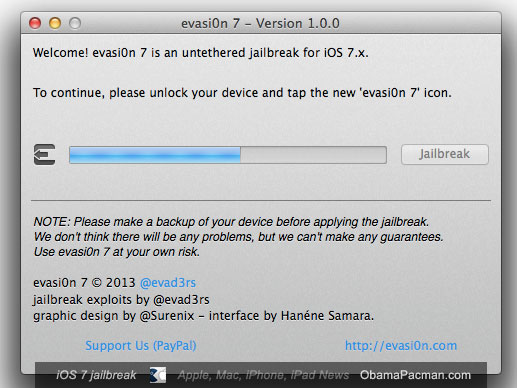 The iOS 7 jailbreak is for iPhone, iPad or iPod touch running iOS 7.0, 7.0.1, 7.0.2, 7.0.3, and 7.0.4. The jailbreak is not for iOS 6 or Apple TV.
It's an untethered jailbreak, which means you only have to perform these steps once (tethered jailbreak requires jailbreak after each restart).
iOS 7 evasi0n jailbreak tutorial for Mac and Windows
1. Backup your iOS device using iCloud or iTunes.
If using iTunes, you should check "Encrypt iPhone backup." Not only would that provide better security, it'll also keep your passwords (wifi, email account, etc.) in the encrypted backup so you don't have to enter them again. Quit iTunes if you used iTunes to backup.
2. Turn off Passcode on your iOS device:
Go to: Settings > General > Passcode
3. Download evasi0n for Mac or PC from the evad3rs.
4. Launch evasi0n 7 app
- On Mac, open the .dmg file, and open evasi0n 7 app. (if it doesn't open you need to right click, select open, and tell it to launch.)
Bug: Although 10.6 is said to be supported evasi0n 7, version 1.0.0 of the app crashes with my Snow Leopard 10.6.8 partition. Works fine in 10.9 Mavericks.
- On PC, launch evasi0n 7 as Administrator.
5. At a certain point, you are asked to open the evasi0n app on your iOS device. It'll open to a white screen with some horizontal lines. Keep your iOS device connected to the computer and the progress bar should keep moving.
You'll see this when you are done. Congratulations, you've jailbreaked iOS 7: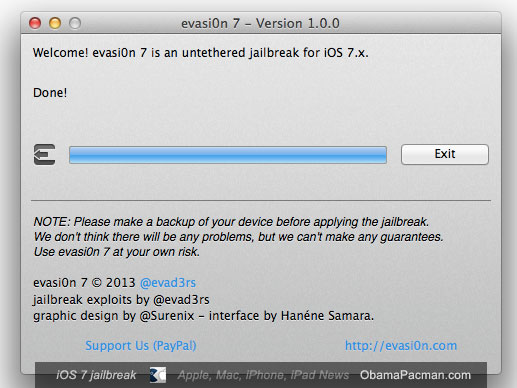 iPhone / iPad stuck in boot logo loop?
Performed the above steps, but got stuck on looping / rebooting logo? It is caused by using OTA (over the air) updates, when the iOS device is updated over wifi without using iTunes. In that case, you need to restore your device to iOS 7.0.4 .ipsw using iTunes*.
- On your iOS device, turn off Find My iPhone
Settings > iCloud > Find My iPhone
- Using iTunes on your computer, restore your device to 7.0.4.
- Quit iTunes, starting from step 2.
- After you are done, make sure to turn on Find My iPhone and add a passcode.
*You can restore iOS device to 7.0.4 while Apple is signing the specific firmware. Once 7.1 is released older firmware will no longer be installed.

Related Posts