Hunger Games: Catching Fire crew used iPad
Behind the scenes photo of Hunger Games: Catching Fire shows crew using iPad on set.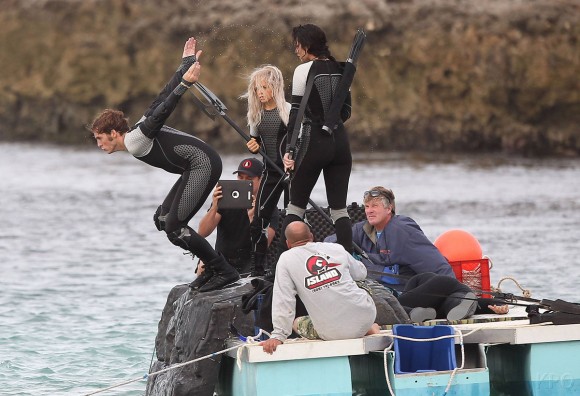 Photo shot on location at Hawaii. Seems to be by KPO aka Katniss Peeta Online (not a photo agency but a fan site with some exclusive photos). The iPad seems to be used by a crew member to take photo or video of a scene featuring:
Jennifer Lawrence as Katniss Everdeen with her signature bow
Sam Claflin as Finnick diving off the "rocks"
Small young blonde girl with trident who I am guessing is the stunt double of Mags played by Lynn Cohen
Side note: what's up with the person lying down next to the red crate on the floating platform?
The Hunger Games: Catching Fire premiered in theaters on November 22, 2013 and is leading the box office this holiday season.
Do you think this is inspired by Michael Bay directing a movie using his iPad?

Related Posts