The Elements: A Visual Exploration [iOS app freebie]
Award winning interactive Periodic table iOS app, normally $14, is free for a limited time.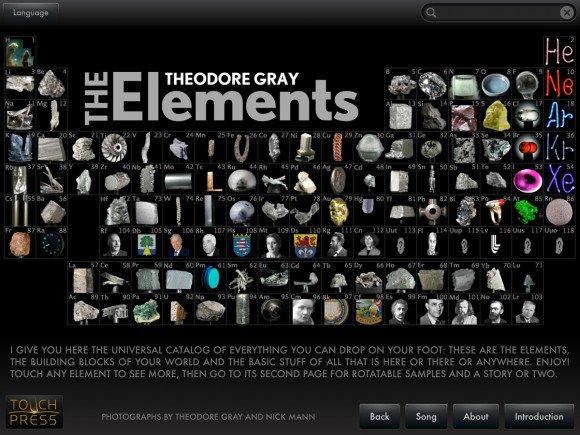 Today only, download The Elements: A Visual Exploration Universal App for free (Size: 1.82 GB download). Originally made for the iPad, The Elements is now an Universal app with also iPhone and iPod touch support. The developer also added Retina display support.
The developer, Touch Press, notes that the limited time free download of The Elements app is to "celebrate SIX Touch Press apps being selected by Apple for BEST OF 2013."
More details about The Elements: A Visual Exploration
Of all the periodic table apps, there is only one which Stephen Fry described as "Alone worth the price of an iPad!". The Elements: A Visual Exploration is not just a reference app, it is a rich and engaging love story of the periodic table, told in words and pictures, and allowing you to experience the beauty and fascination of the building blocks of our universe in a way you've never seen before.
Features include:
Over 500 high resolution 3D objects
Details and current facts
Fun stories and fascinating facts (and the song in the above video)
Fully translated into English, Catalan, Croatian, Dutch, Finnish, French, German, Italian, Japanese, Korean, Polish, Portuguese, Russian, Simplified Chinese, Spanish, Swedish, Turkish
Don't have an iOS device? You can buy it as a book: The Elements: A Visual Exploration of Every Known Atom in the Universe
.

Related Posts