Google patents creepy electronic neck tattoo with embedded microphone
Just when you think Google just raised the privacy-invasion bar with Google Glass. It seems that Google is not content with just having microphone on your face. It wants to embed a microphone on your neck!
Google patenting an electronic 'throat tattoo' by Doug Gross of CNN points out this creepy patent.
Filed May 3, 2012, patent application US 2013/0297301 A1 by Motorola (now owned by Google) published by USPTO on November 7, 2013:
"The system comprises an electronic skin tattoo capable of being applied to a throat region of a body. The electronic skin tattoo can include an embedded microphone; a transceiver for enabling wireless communication with the MCD; and a power supply configured to receive energizing signals from a personal area network associated with the MCD."
The illustration looks to depict a mindless Android drone happy with the spying device.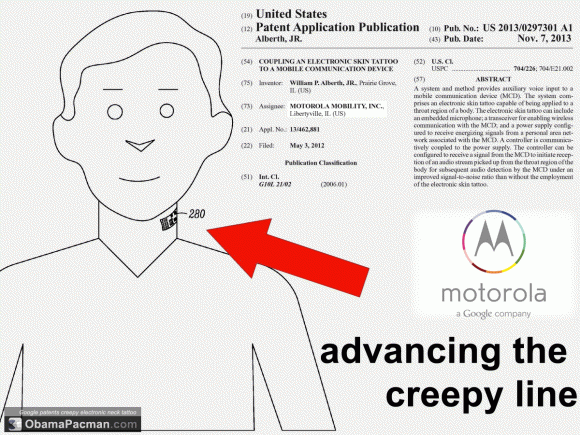 The patent also describes a way to spy on the person's emotion, by using the electronic throat tattoo as a lie detector:
"Optionally, the electronic skin tattoo can further include a galvanic skin response detector to detect skin resistance of a user," the 10-page document reads. "It is contemplated that a user that may be nervous or engaging in speaking falsehoods may exhibit different galvanic skin response than a more confident, truth telling individual."
What's next on the creepy line for Google? A chip in the head?
Perhaps for the "free" users, Google will include an explosive neck collar. Think about using ad-block? Boom!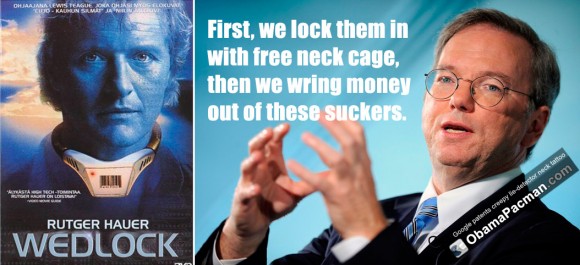 Second image features 90's movie Wedlock (aka Deadlock) directed by Lewis Teague and executive chairman of Google Eric Emerson Schmidt.

Related Posts