Samsung fakes Note 3 device performance benchmarks
Here's another one of Samsung's dirty tricks: cheating with fake benchmark scores.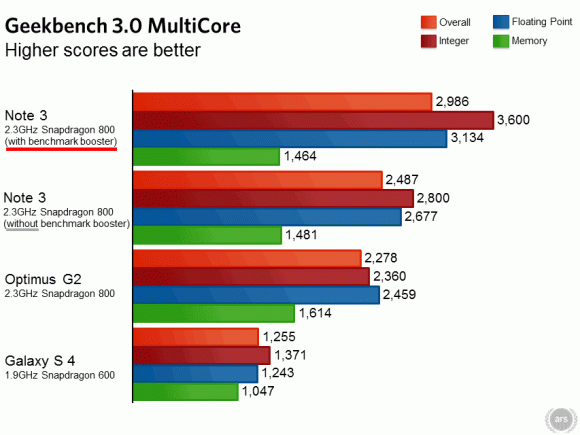 Benchmarking is supposed to show how the device behaves when doing real-world tasks. It a quantitive way to compare device performance… if device makers don't cheat.
In July, Samsung was caught faking Galaxy S4 benchmark.
Today, Arstechnica discovered Note 3's benchmarking "adjustments" inflate scores by up to 20%:
"We noticed an odd thing while testing the Samsung Galaxy Note 3: it scores really, really well in benchmark tests—puzzlingly well, in fact. A quick comparison of its scores to the similarly specced LG G2 makes it clear that something fishy is going on, because Samsung's 2.3GHz Snapdragon 800 blows the doors off LG's 2.3GHz Snapdragon 800. What makes one Snapdragon so different from the other?

After a good bit of sleuthing, we can confidently say that Samsung appears to be artificially boosting the US Note 3's benchmark scores with a special, high-power CPU mode that kicks in when the device runs a large number of popular benchmarking apps."
Basically, Samsung hardcoded a file "DVFSHelper.java" that speeds up the device only for benchmark software. The fake benchmark performance is not available during real world use.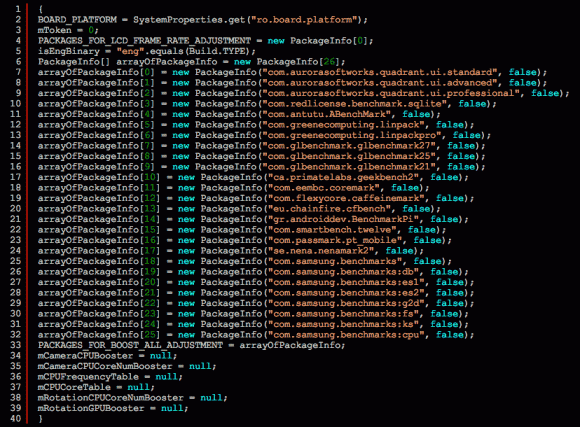 Samsung is seems to be also faking the new Galaxy Note 10 tablet benchmark scores. Arstechnica reported:
"We're also seeing some evidence that Samsung's new Galaxy Note 10 tablet is exhibiting the same behavior."
I would love to see battery life tests when benchmarking software are running on these devices.
More of Samsung's shameless shenanigans:

Related Posts