Samsung Galaxy Gear ad copies original iPhone ad from 2007 [SameSung]
Finally, Samsung made a great ad that the people like. I wonder why.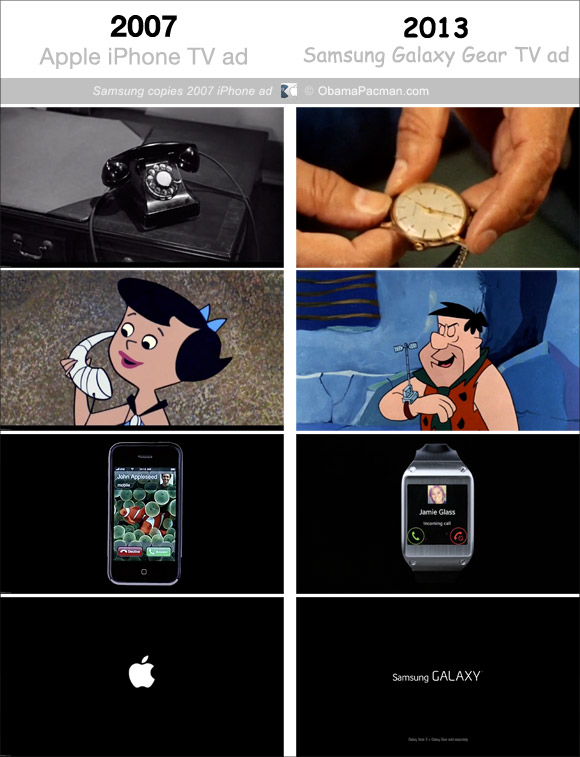 Matthew Panzarino (@panzer), senior editor of Techcrunch noticed that Samsung is trying to pass off a copy of the original iPhone TV ad as its own.
2007 – first Apple iPhone TV ad:
The iPhone ad:
Shows a traditional looking device
Shows montage of movie & TV characters talking to the device
Shows the new device
Now, over six years later, Samsung follows.
2013 October – SameSung Galaxy Gear ad:
Surely the ripping off the first TV ad of the iconic Apple iPhone by Samsung is totally a coincidence.
This is not the first time Samsung copied an Apple TV ad. At least they didn't hire the same actress this time.
And the funny thing is that while the Apple iPhone revolutionized the phone industry, the Samsung Galaxy Gear watch is universally panned. Even the Samsung-sponsored The Verge called the ad "Samsung's best commercial is for its worst product."
That's because similar to the HP Slate that tried to preempt the rumored Apple iPad tablet, the Samsung watch is based on rumors of the Apple iWatch. Without an actual iWatch to copy, Samsung can't make a useful product.

Related Posts