iPad Air almost twice as fast as iPad 4 [benchmark]
Benchmark of the new iPad Air, the fifth generation iPad, shows impressive speed gains.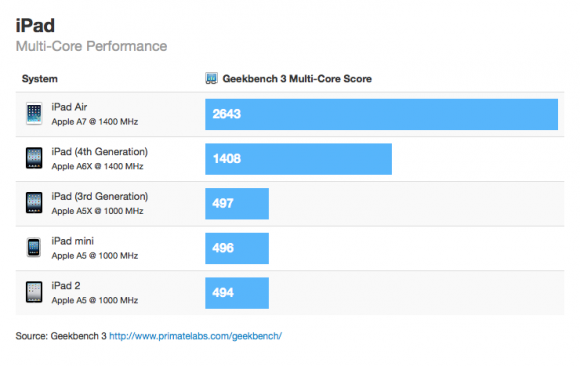 John Poole, the founder of Primate Labs, benchmarked the iPad Air with its cross-platform processor benchmark app Geekbench 3. ("Higher scores are better, where double the score means double the performance.")
iPad Air vs. 4th gen iPad:
Single-Core performance of 1465 vs 771, 90% increase
Multi-Core performance of 2643 vs 1408, 87% increase
They discovered that even though the 5th gen iPad and the 7th gen iPhone are using the same A7 processor, the iPad Air is slightly faster than the iPhone 5s:
The iPad Air's A7 processor is running at 1.4 GHz, 100 MHz faster than the iPhone 5s' A7 processor. It's not clear if the iPad Air processor runs at a higher speed thanks to a larger battery (providing more power), a larger chassis (providing better cooling), or some combination of the two.
The A7 is fast either way, and currently is the only 64-bit mobile CPU.
iPad Air, introduced October 22 by Apple, goes on sale tomorrow at 8 AM at Apple Store and other retail stores.

Related Posts