Asphalt 8: Airborne racing game tips
My Asphalt 8 tips and current deal: download Asphalt 8 for iOS for free.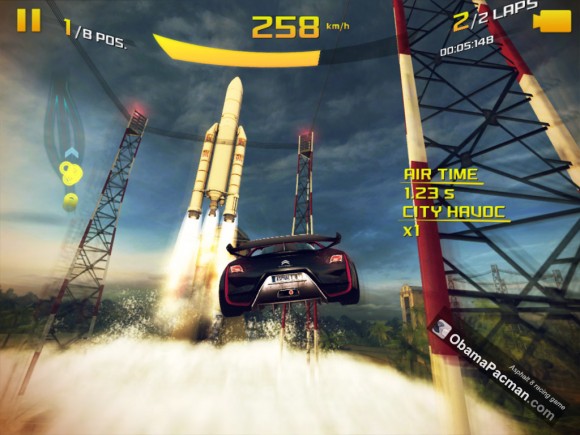 Download Asphalt 8 Universal App for iPhone, iPad, and iPod touch. 884MB. $0.99 off -> free.
There are real cars such as Mercedes, Tesla, Ferrari, and Lamborghini and fake cars such as Porsche inspired RUF. You can unrealistically fly / spin your car using ramps but it's fun. The single player levels are varied, from classic race, knockdown, elimination, gate drift, and infected.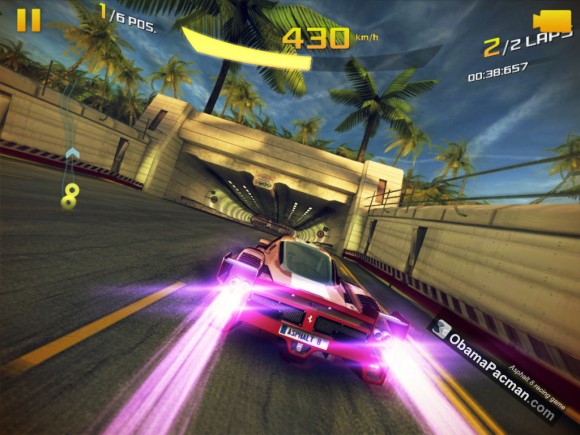 Asphalt 8, like most games has In App Purchase. However, if you are good with racing games, you can get through most of the game without spending money for IAP. I really like the game, although beating the game fully with 5 stars requires grinding toward the end.
ObamaPacman Asphalt 8: Airborne racing game tips:
Don't get every car, save your money and get the best car you can when your current car can't come into top 3 no matter what you try
Upgrade most cars no more than one level, otherwise it gets expensive
Learn the maps and figure out what route works for you, the shortest route usually wins but on some maps a slightly longer route with power-up might be better.
Learn to use Perfect Nitro. You'll go faster on the same amount of nitro. Hit nitro once, and when the bar hits the red area hit nitro again for perfect nitro boost.
Season 3 of Asphalt 8 might seem to be a paywall, since getting all 3 stars there will require buying many cars costing more money than you have. This is what you do: get 3 stars on the missions you have a car for (but don't waste your money on upgrades). If you followed my tips (buying very few cars and upgrades), you should unlock level 4 when you win about half of level 3 races. Skip the other half of level 3 for now, and come back when you earn more money. The goal is to unlock higher seasons, as they provide more money with each win. The you-need-these-cars wall happens again in Season 5, 7, and 8.
On occasion I have to farm races a bit to earn currency, I like to play gate drift on the highest season I unlocked, since you have no competitor and the time is limited to 3 minutes. Gate drift on season 8 is over 4000 currency per win.
If Gate Drift gets boring, play some multiplayer up to level 20. You'll earn less per your time but it's more fun beating real people. In the beginning you'll earn good amount of money quickly because level up gets your money. I win most of the races up to level 20 using Citroen Survolt. My strategy is to accelerate faster than others, and use perfect nitro and knowledge of map to stay ahead.
After level 20, you'll usually see competitors with much better cars, so you need a better car. However, it now takes many races to earn a level, so you don't earn as much.
Important, if you upgrade car in multiplayer, you'll often be matched with people with better cars! However, I can often beat the paid-to-win players with better knowledge of the tracks and better handling of the car (you did get 3 stars on most of the maps didn't you?)
To beat the single player part of the game fully you have to farm at the end to buy cars. Toward season 7 and 8 you'll need a lot of money to buy the expensive cars. If you have no interest in farming or buying in-app-purchase, it might be time to move on to another game.

Related Posts