iPhone sales grew 26% year over year (Apple 2013 Q4 financials)
Today, Apple released the financials for the most recent quarter, fourth quarter of its fiscal 2013 year.
Apple today announced financial results for its fiscal 2013 fourth quarter ended September 28, 2013. The Company posted quarterly revenue of $37.5 billion and quarterly net profit of $7.5 billion, or $8.26 per diluted share. These results compare to revenue of $36 billion and net profit of $8.2 billion, or $8.67 per diluted share, in the year-ago quarter. Gross margin was 37 percent compared to 40 percent in the year-ago quarter. International sales accounted for 60 percent of the quarter's revenue.

The Company sold 33.8 million iPhones, a record for the September quarter, compared to 26.9 million in the year-ago quarter. Apple also sold 14.1 million iPads during the quarter, compared to 14 million in the year-ago quarter. The Company sold 4.6 million Macs, compared to 4.9 million in the year-ago quarter.
It's impressive to see such a large growth of iPhone (22.9 million -> 33.8 million, or 25.6% YOY growth), despite the new iPhone 5s/5c launched only on September 20, just days before the end of the quarter. But the Verizon 2013 Q3 smartphone sales already hinted record iPhone sales.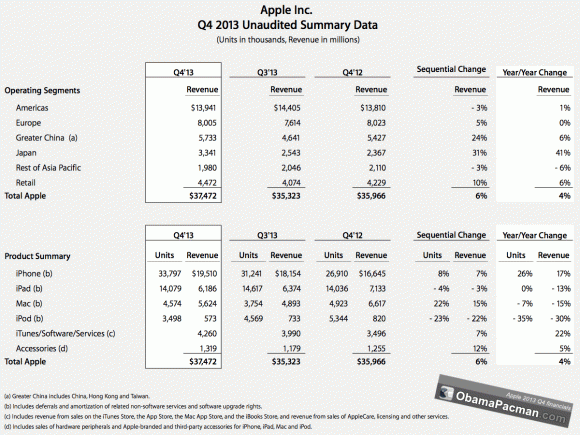 Overall Apple's revenue grew by 4% compared to year ago quarter. There's 6% growth in Greater China, which includes China, Hong Kong, and Taiwan. There's 41% growth in Japan, partly due to major Japanese mobile carrier Docomo started selling iPhone. iTunes revenue increased 22% YOY, showing that there's continued growth in the iTunes and iOS App Store / Mac App Store ecosystem.
Unit change of Apple products sold by category Year over Year:
iPhone: 26%
iPad: 0%
Mac: -7%
iPod: -35%
Profit decreased slightly compared to the the prior year. That seemingly caused a drop in Apple's share price after market.
Is Apple doomed? Apple still makes more money in one quarter (or even one month) than Amazon ever made in its almost two decade long existence. Meanwhile, shares of the unprofitable Amazon rose on the news of negative profit.
Apple's lower profit is partly due to popularity of the iPad mini, which has lower profit margins than Apple's other products.
Mac sales follows the PC industry decline, made possible as more and more individuals and businesses switch to iPad. But why is the iPad sale "stagnant"? The unit of iPad sold stayed flat due to many people holding up their purchases, as many knew Apple will update iPhone, iPad, and its Mac lineup this fall. The huge jump in iPhone sales shows that people are buying Apple products as new ones are introduced. I suspect with the release of new iPad Air, retina iPad mini, and Macs this quarter, Apple is likely to break another record.

Related Posts