Apple introduces iPad Air: lightest full size tablet in the world
iPad 5 gets a redesign and new name: iPad Air.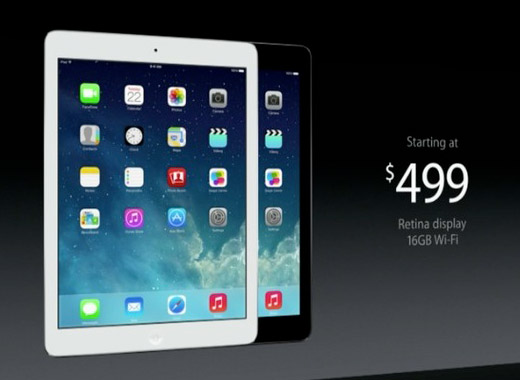 iPad air features:
New design
Thinner (7.5mm vs old 9.4mm)
Thinner bezel
Lighter (1 pound vs old 1.4 pound)
64-bit A7 chip (same as iPhone 5s)
M7 motion processor
CUP and graphics both 2x of previous generation
1080p HD video
Front FaceTime HD camera
10 hour battery
iPad Air colors:
Silver and white front
Space gray and black front
iPad Air will maintain the new price as the most recent iPad,
$499 for 16GB Wifi version
$629 for 16GB Cellular version
Availability date of iPad Air is November 1.
Apple will continue to sell the 2.5-year-old non-retina display iPad 2 at $399. If you are in the market to get a cheap full sized iPad, ObamaPacman recommend that you get Apple refurb instead, since the 4th generation refurb Retina iPad starts at $379 right now. But for companies with Apple 30 pin dock connector base system and have no plan to upgrade to Lightening cable ones, iPad 2 might be a viable option.
Mark my words, next year, full size Android tablets will copy the thin bezels of the iPad Air.

Related Posts