Opera used its best engineers and designers to build this iPad web browser: Coast
Nice new iPad browser from the maker of Opera.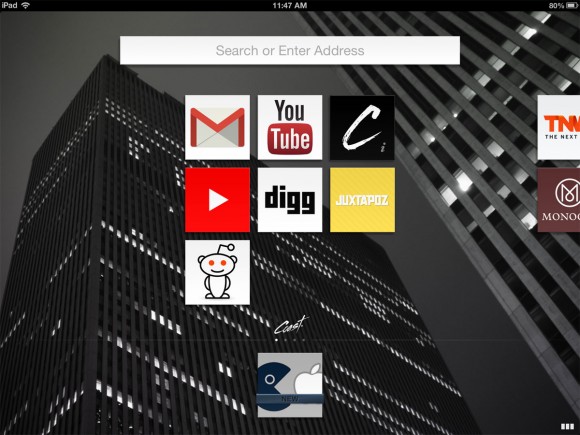 Opera announced its "Coast" browser for iPad:
"Old conventions are out with Coast: there is no URL field at the top of the screen, no back or forward buttons, no tabs and no bookmarks. Yet, it all flows naturally and blends into the use of the iPad."
Coast is made for tablets, aka the iPad. It's a free download on the Apple App Store. There is no Android version of course.
The project head, Huib Kleinhout, said Opera used its best engineers and designers to create the Coast iPad browser:
The browser is fairly intuitive to use. You open it up to a short guide.
Swipe horizontally to go forward and back. The browser home screen shows a search bar and a set of visual bookmark icons that behaves similarity to the iOS home screen, except there is no text under the icons. Swipe up to close the browser window or remove bookmark icon. There's a button to access different browser window.
Google+ is in the first bookmark spot, its placement is paid for by Google no doubt. Deleted. The browser's other source of revenue seems to be display some small image ads when you use the search bar.
The browser loads ObamaPacman.com nicely and quickly. However, some of its default sites that came with the app don't work as well. Sites with infinite scroll home page don't work well with back swipe. Once additional page is loaded by infinite scroll function, the art site Juxtapoz gets stuck when user attempts to swipe back. Digg, another default site looks nice but loads very poorly. The images reloads every time. Deleted.
Besides the few sites that don't work with the browser, Cost seems to be a nicely design free browser for iPad, so give it a try.

Related Posts