Nokia Lumia copies Apple iPod nano
Microsoft Nokia's attempt to ride the coattail of today's Apple new iPhone announcement backfires.
After Apple introduced the iPhone 5c and iPhone 5s today, @Nokia_uk thanked Apple with an image containing its slow-selling Lumia phones with caption of "imitation is the best form of flattery."
Thanks, #Apple ;) pic.twitter.com/x4w3r8Ghcy

— Nokia UK (@nokia_uk) September 10, 2013
Perhaps Nokia thinks Apple iPhone 5c would copy the Nokia Windows encumbered Lumia phones? Oh wait…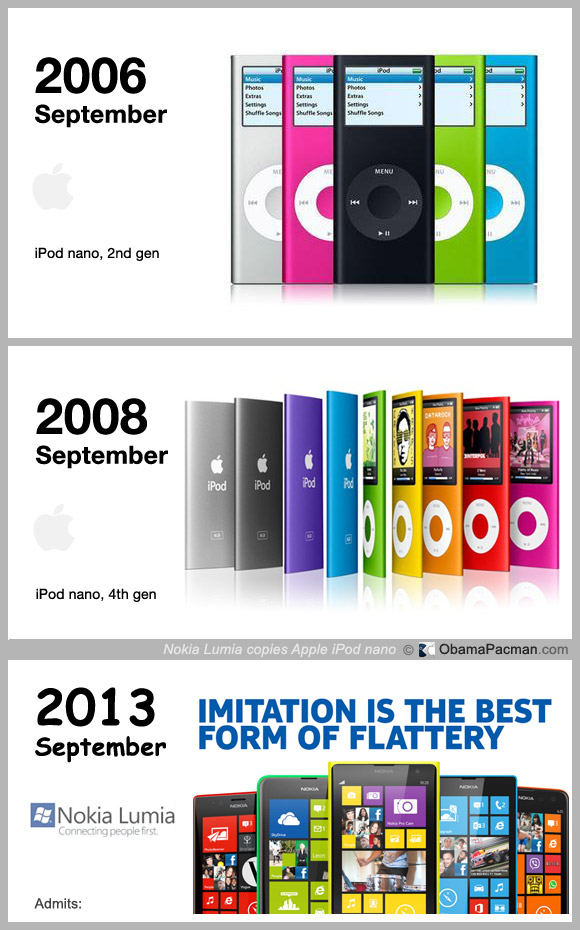 Apple sold more iPods in a week than the Windows phone sold in a quarter. Surely Nokia knew nothing about either the second generation iPod nano (introduced September 2006) or fourth generation iPod nano (introduced September 2008)? Is it more likely that Apple would copy failing products from Nokia or for Nokia to copy the market leading Apple?
In case there's any doubt look at the Nokia Lumia 800, which follows the case design and color of 2010 iPod nano:
@chronic Nokia vs Apple pic.twitter.com/cd9jMdKpPx

— Int3nsive (@Int3nsive) September 10, 2013
Graphic created by ObamaPacman.
P.S. I am assuming the products shown are 2013 Lumia devices, since the Windows Phone 7 Nokia Lumia 900 (released April 2012) was already abandoned and can't be upgraded to Windows phone 8.

Related Posts