Recording breaking 9 million iPhone 5s & 5c sold in three days
The 2013 iPhone 5s and 5c is best iPhone launch yet again, despite even more overwhelming demand for the new iPhone.
Today Apple announced its first weekend iPhone 5s / 5c sales:
"Apple today announced it has sold a record-breaking nine million new iPhone 5s and iPhone 5c models, just three days after the launch of the new iPhones on September 20. In addition, more than 200 million iOS devices are now running the completely redesigned iOS 7, making it the fastest software upgrade in history. Both iPhone 5s and iPhone 5c are available in the US, Australia, Canada, China, France, Germany, Hong Kong, Japan, Puerto Rico, Singapore and the UK. Demand for iPhone 5s has exceeded the initial supply, and many online orders are scheduled to be shipped in the coming weeks."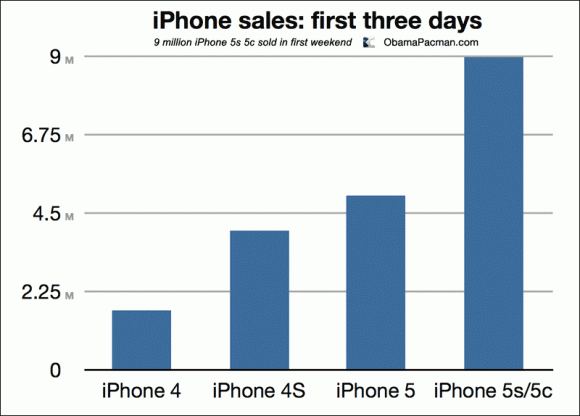 In comparison, here are the iPhone sales numbers their first weekend:
And of course Apple sold the few thousand golden iPhone available.
Apple announced 200 million devices are running iOS 7. Subtract 9 million 5s / 5c, that means over 190 million existing devices updated to iOS 7.

Related Posts