Obama Administration vetoed ITC old iPhone and iPad ban based on Samsung standard-essential patents
Today, the Obama administration clarified that FRAND patents can't be used recklessly by disapproving an unjust ITC ban.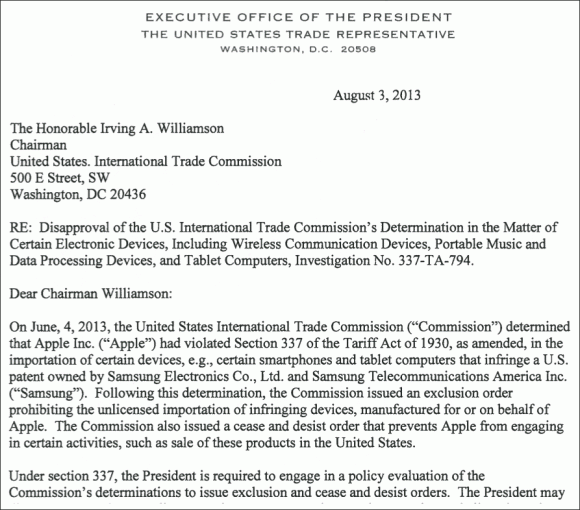 In June, U.S. International Trade Commission (ITC) ruled that Apple violated a Samsung standard-essential patent (SEP). As a result, the ITC issued a ban for AT&T versions of iPhone 3GS, iPhone 4, first gen iPad 3G, and iPad 2 3G that is to start on Monday August 5, 2013.
The ITC ban was a surprise to many due to the fact that Samsung breached its commitment to license SEP on FRAND (fair, reasonable, and non-discriminatory) terms. Samsung asked for a fraction of Apple product retail price, instead of industry standard practice of a few percent of the chip price. This is despite the fact that Apple's chip supplier already paid Samsung at FRAND rate to produce the chip with the said SEP, and Samsung tried to double charge Apple for that chip.
Today, just two days before the ITC ban is to take place, this letter from the Obama administration was sent to ITC Chairman Irving A. Williamson. It is to disprove the ITC ban:
Licensing SEPs on FRAND terms is an important element of the Administration's policy of promoting innovation and economic progress and reflects the positive linkages between patent rights and standards settings. […]

After extensive consultations with the agencies of the Trade Policy Staff Committee and the Trade Policy Review Group, as well as other interested agencies and persons, I have decided to disapprove the USITC's determination to issue an exclusion order and cease and desist order in this investigation. This decision is based on my review of the various policy considerations discussed above as they relate to the effect on competitive conditions in the U.S. economy and the effect on U.S. consumers.
It is signed by Ambassador Michael B. G. Froman from Executive Office of the President, Office of the United States Trade Representative, who is responsible for overseeing ITC orders.
The letter informs that future cases involving FRNAD-encumbered SEPs should be reviewed more thoroughly by the ITC.
It's good news for U.S. consumers due to the recent rampant abuse of SEP by Samsung and Google's Motorola against Apple and other companies.

Related Posts