Madden NFL 25 for iOS is the app freebie of the day
Score! Newest Madden NFL game launched its mobile app as a free download for iOS devices today. Grab it now. #noAndroid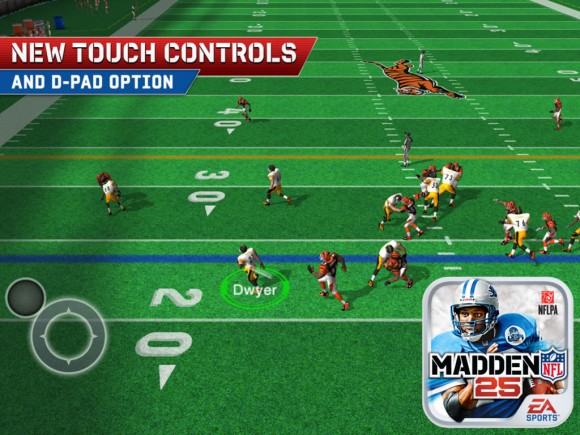 Download Madden NFL 25 Universal App for free. It's a 702 MB download for iPhone, iPad, and iPod touch users. This American football game features:
32 real NFL teams
Build your own team from roster of more than 1,500 real NFL players
Play through several seasons in Solo Challenges
Take on friends in the fast-paced, offensive shootout mode, Head-2-Head (a mobile exclusive)
Jump into Exhibition mode for single-player offensive and defensive football
New and intuitive Tap & Swipe controls
Here's a long game play video of Madden NFL 25 for iOS:
Madden NFL 25 Android device support
Electronic Arts' Madden NFL 25 is available for Apple iPhone 4 and higher along with Apple iPad 2 and higher. Like Plants vs. Zombies 2 and many other games, the mobile version of the newest Madden NFL is another game not available for Android phones, phablet, or tablets from Google, Samsung, etc.
Of course, Google's Android Market contains this fake app called "Madden NFL 25 Fan App". The scam app uses official logos of EA and NFL and has this as a description in the Google Play Store open wasteland: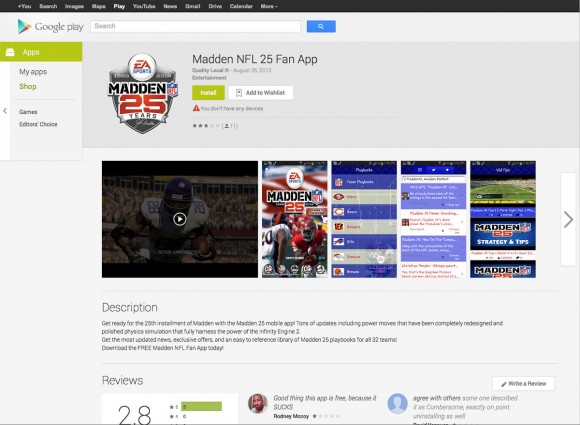 "Get ready for the 25th installment of Madden with the Madden 25 mobile app! Tons of updates including power moves that have been completely redesigned and polished physics simulation that fully harness the power of the Infinity Engine 2.

Get the most updated news, exclusive offers, and an easy to reference library of Madden 25 playbooks for all 32 teams!"
LOL "Infinity Engine 2." By the way, silly robot, this is the 29th game of the Madden NFL game franchise. Here's some screenshot from Madden NFL 25 for iOS:

Related Posts