Plant vs. Zombies 2 download released worldwide for iPhone, iPad, iPod touch!
Apple teased that the new Plant vs. Zombies 2 game will be available for download on the App Store on August 15. Now it's time! The game had a soft launch on July 9 in New Zealand and Australia, and was originally set to launch world wide on July 18.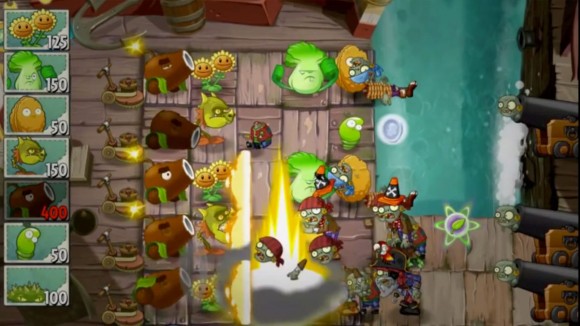 Yesterday, Apple's App Store Facebook account uploaded a PvZ styled hand and teased: "It's about time. Guess what game is coming tomorrow?"
Plant vs. Zombies 2 is now available exclusively for iPad, iPhone and iPod touch on the App Store as a free download. PvZ 2 is not for PC, Android, PS3, VITA, Xbox, or wii. The record sales of Plant vs. Zombies for iOS might explain why it's currently for Apple devices only.
This game, Crazy Dave invented a time machine, and iOS users get to fight zombies in ancient egypt, pirate seas, and wild west. There will be new plants and new zombies.
The game is free to play, so will the freemium payment scheme ruin the game? I don't think so. Reports are that PvZ 2 iOS app has no ads, and almost all of the content can be unlocked by playing the game. The only things that require in app purchase to unlock are the classic plants from the first game. However, with the new plants in this game you really don't need the classic plants.
The first Plant vs. Zombies game also required some grinding to unlock the mini-games. To me, it didn't feel like grinding because the game is fun to play. Hope PvZ 2 stays the same.
I'm having fun with PvZ 2 so far. PROTIP from ObamaPacman: You don't have to pay to unlock the side levels!!! Just keep playing and you'll find the keys (but there is a lot of grinding though).
Plant vs. Zombies 2 Trailer (shows no game play):

Here are some brief explanations with some gameplay video of Plant vs. Zombies 2.
What's new in PvP 2:

New worlds of PvP 2:

New Plants in Plant vs. Zombies 2:

New Zombies in Plant vs. Zombies 2:


Related Posts