Next Apple media event with new iPhone + iOS 7 on September 10
New iPhone 5S or iPhone 6 is expected at the next Apple media event this fall, along with possibly a low cost iPhone 5C.

The September 10, 2013 Apple media event is confirmed by AllThingsD and Jim Dalrymple.
The new iPhone 5S of iPhone 6 will feature iOS 7 with a radical new design, introduced this summer at the 2013 Apple WWDC. A rumored low cost iPhone 5C might come with plastic back and different color options.
Some of the iOS 7 features include:
New system wide multitasking with screenshots of apps, based on Safari mulitasking (on iOS since the 2007 iPhone OS version 1).
Control center: swipe up from bottom of the screen to control flashlight, wifi, music control, AirDrop, AirPlay, and other settings.
Camera app with filters, square photo mode, and redesigned look for Panorama, still photo, and video mdoe
Improved security: turning off Find My iPhone or erasing iPhone, iPad, and iPod touch now requires Apple ID. Erased iPhone and iOS devices will continue to display a custom message. And Apple ID is required to reactive stolen or lost devices.
iOS in the Car, coming 2014, integration major auto makers
Parallax home screen, where apps float on a background that moves depending on your perspective. Similar to these 2010 Mac based winscape virtual windows for the house, and some say classic Disney animations shot with multiplane camera: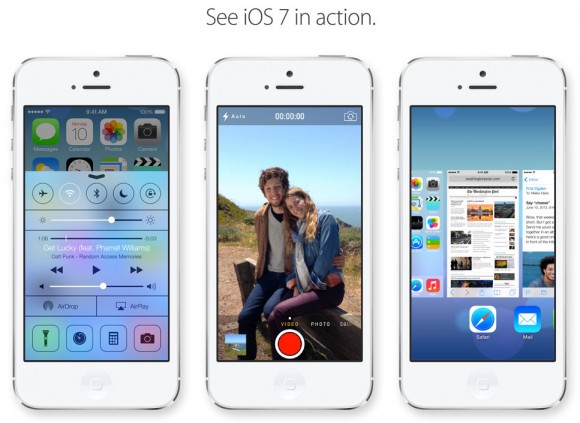 Apple iOS 7 is compatible with:
iPhone 4 (2010)
iPhone 4S (2011)
iPhone 5 (2012)
iPhone 5S or iPhone 6 and possibly the rumored iPhone 5C (2013)
iPod touch 5th generation (2012)
iPad 2 (2011)
iPad with Retina display, aka iPad 3 (2012 Spring) and "new iPad" iPad 4 (2012 Fall)
iPad mini (2012)

Related Posts