Samsung Galaxy Tab 3 copies iPad mini thin border design [SameSung]
Surprise, surprise, a certain Korean company copies more of Apple's product design.
When Apple launched the iPad mini in October 2012, Apple explained the design: the almost 8″ screen size and thin border allow one-handed use.
Now, the new 8″ Samsung Galaxy Tab 3 has the same border design as the iPad mini: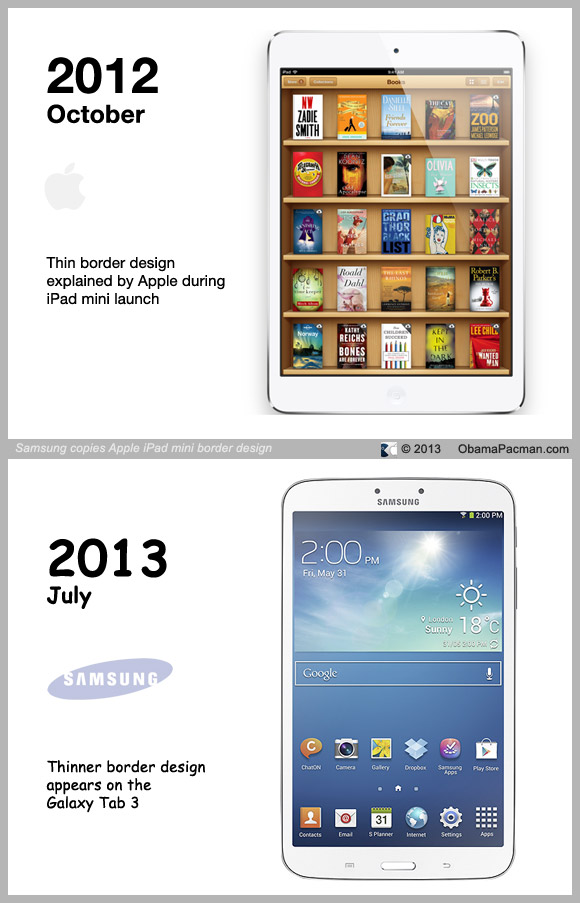 Samsung denies copying Apple, so perhaps the Samsung designers were looking into a bowl of water in which this 2012 iPad mini introduction video was reflected:
iPad mini border design obvious?
Some might argue that the thin borders is an obvious design choice for 8″ tablets. However, before iPad mini, smaller Samsung tablets copied the 10″ iPad's design (introduced April 2010) which has even-width borders on all sides.
Here are the four small SameSung tablets that were released before Tab 3.

2010 Nov: Galaxy Tab, aka "pocketable trainwreck"
2011 Nov: Galaxy Tab 7.0 Plus
2012 Jan: Samsung Galaxy Tab 7.7
2012 Apr: Samsung Galaxy Tab 2 7.0
For two years, Samsung slavishly copied the overall iPad design, including the screen to border ratio. But the Korean copying company didn't understand the design philosophy behind the iPad borders.
The full sized iPad is designed with "thick" borders so that thumbs can grip the tablet without accidental taps. (Yes, people who did not try to print one of these full sized iPad papercraft mockups complained after Steve Jobs introduced the Apple tablet).
When you change the physical size of the device, the borders are no longer useful because it's too narrow for most people's fingers. But that was not "obvious" to the SameSung copy machine until Apple released the iPad mini.
Images by ObamaPacman, devices are to scale

Related Posts