Scientists use iPod touch + Macs to monitor biodiversity in Puerto Rico and Costa Rica
A system consists of iPod touch, Mac Mini, and Xserve makes long term biodiversity monitoring, machine identification, and documentation possible.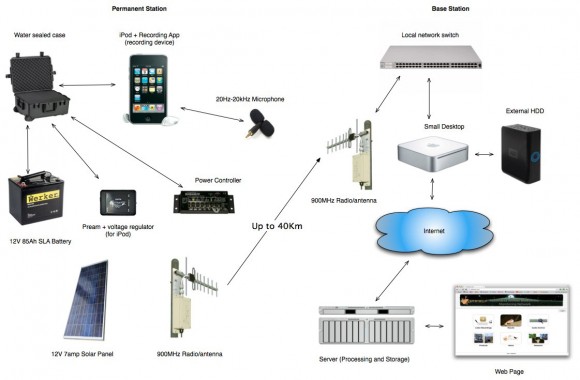 Short version, excerpt from Wired:
"Somewhere in Puerto Rico, a small yellow frog is chirping into a microphone attached to an iPod. Several kilometers away, a computer is listening. Within a minute, that song will be posted online, and the species of the frog will be identified — all without scientists lifting a finger."
The system is created by T. Mitchell Aide and Carlos Corrada-Bravo of University of Puerto Rico. It's been running since October 2008 using the second generation iPod touch, when the Samsung iPod touch knockoff was nowhere in sight.
The newly published study, "Real-time bioacoustics monitoring and automated species identification" describes all the technical details and observations about species activities.
Why? They wanted to solve problems with traditional monitoring methods (sending experts to the field), which include:
Requires experts in acoustic identification
Observer bias in identification
Data normally collected over limited sites over short period of time
Most don't keep permanent record
Thus, they created this automated system to collect recording over many locations 24 hours a day, every day of the year. The system is called Automated Remote Biodiversity Monitoring Network (ARBIMON), and it includes both hardware and software for data collection, record keeping, and automated identification. The recording are also available for casual listening or expert identification.
Equipment Used
iPod touch with microphone and custom recording app to record 1 minute of audio every ten minutes. The app can be remotely controlled to change recording duration.
Connected over 900MHz radio antenna to a base station. They use Avalan Wireless 900 MHz Radio Ethernet extender, which "maintain a strong connection at a distance of 2 km through vegetation and up to 40 km if there is line-of-sight between the antennas."
The recording equipment is powered by solar panel, battery, voltage regulator in water sealed case
A Mac Mini at a base station runs an AppleScript to process the audio files
The data is then stored on Apple Xserve (2.8 GHz Quad-Core Intel Xeon, 4–12 GB 800 MHz DDR2 FB-DIMM) and Promise VTrak E610f RAID Subsystem with 12TB configured as a RAID6 for a total of 9TB of available space.
In total, "Recordings from the Sabana Seca station took less than 1 min to be sent from the field, to the base station, and on to the project server where it was processed, stored, and incorporated into the project's open-access web site."
Almost realtime recordings and archive of all recordings can be accessed on arbimon.net by anyone. You need to be approved from the project owner to annotate the recordings.

Related Posts