Pantless endless walker "SideWalker: Late to Work" iOS game released
A promising new endless runner with a modern twist is now available on the App Store as a free download for iPhone, iPad, and iPod touch.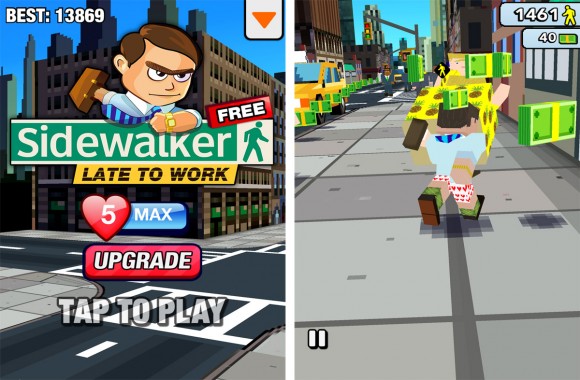 Trailer: SideWalker, Late to Work
Ever want to punch those pesky tourists who are slowing you down from getting to work? This is the game for you.
SideWalker: Late to Work [free, Universal app], announced this winter from Walking the Game, is officially released today. The game is produced and coded by Andrew Garrahan, who has developed some OMGPOP games in the past, but now runs his own shop called Gutpela Interactive. 7 people, 2 interns, and 5 voice actors worked on this game.
You play in a Minecraft styled New York City, as someone who woke up late and needs to get to work. Your character is in such a rush that he forgets to put on his pants.
Unlike the typical runner such as Temple Run, you can change your own pace. You can go at a snail's pace, or attempt to navigate the sidewalks at Gran Turismo speed (not recommended unless you buy the full version).
The challenges include: avoid various types of pedestrians, dodge killer taxi cabs, avoid running into objects, and get phones to pacify the boss. Just as you think you get a hang of it, you might encounter construction zones that forces you to cross the street or weave in traffic. Pro tip: slow down when appropriate.
I like how the music changes depends on urgency to call the boss, and the phones become more prominent.
Of course, you can collect cash aka sidebucks to buy upgrades. You can also hit tourists to collect extra cash and get power-ups such as pants. Going near hotdog stands will get you a hotdog. What does it do? The developer told ObamaPacman:
"Hotdogs will give you more points, unfortunately it's not hooked up yet."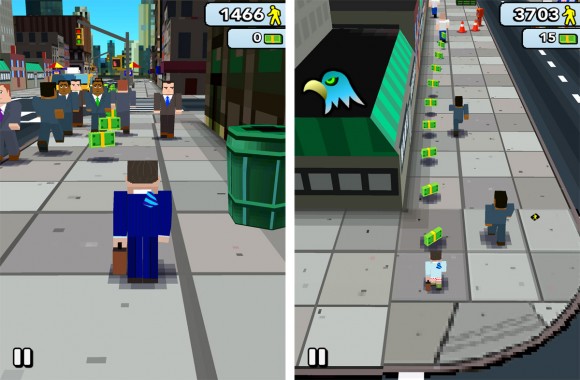 The game comes with 5 lives, and tries to use the wait-or-pay system so people to buy the game. To get more lives, you have to press the "wait" button and wait a few minutes (go back to home screen to see timer), or pay $0.99 to buy the full version with unlimited plays. If you leave the game long enough, you can come back with maximum 5 lives. There's also in app purchase of "sidebucks". Freemium games typically sell in game currency (other runners) or game plays (You Don't Know Jack), but rarely sell both. But of course, a dollar isn't that much for the uninterrupted version of the game.
Areas for improvement (tested with version 1.0.5):
Pants power-up actually adds a whole suit. Perhaps pants & suit can be separate power ups: if you have pants, then you'll get the suit. And vice versa when you take a hit.
Game Center integration currently involves challenging friends to beat high scores. Perhaps add achievements.
Developer response: "We just discover last night there is a bug with the game center high score. It is not working in this version. We will however be supporting high-score and achievements in upcoming patch."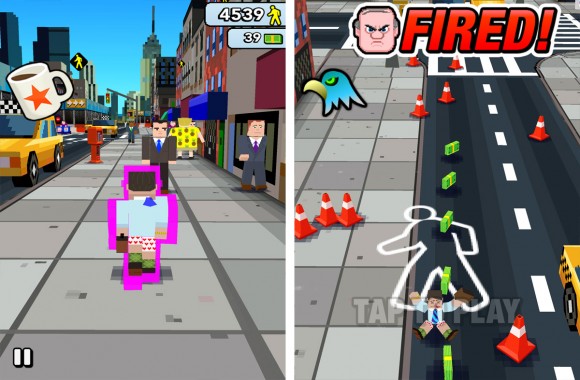 The game should show where your best run. I came upon a chalk walker outline, not sure if this is the previous record or not.
Developer response: "This is correct the chalk outline is your last run, at the moment it is only a marker but in a future patch you will get bonus cash for walking over your previous death marker."
It's actually harder to find a phone in eagle mode. Perhaps add some visual cue to show where the next phones are.
Pedestrians pop out of thin air and through construction zones.
Conclusion
Overall, I like SideWalker: Late to Work. It's different runner / walker game than Temple Run clones. Give it a try to see if you're up for the challenge.

Related Posts