"Turtleneck Cool Factor" song: feat. Bill Gates and Stephen Colbert [video]
Bill Gates admits that Steve Jobs is cooler than him, and here's the auto-tune song.
Video by iTunedSteveJobs. Nice touch of Bill Gates as Buper Man. Looks to me a certain tech titan who introduced the best computer OS in the world – Windows wanted to play Super Man. But at least Bill Gates got this smile down.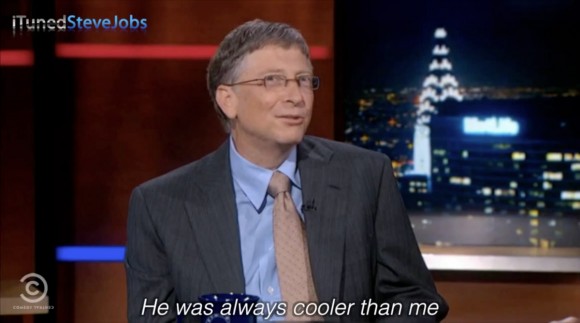 Source: Colbert Report episode from January 30, 2013:
Steve Jobs philanthropy
Is Bill Gates out there saving the world while Steve Jobs gets the cool factor? Jobs doesn't toot his own horn when it comes to philanthropy.
Bono of U2 said under Steve Jobs, Apple was the large contributor to fight AIDS, Tuberculosis and Malaria under project RED. Jobs is also seen as a prime candidate of someone who made an anonymous donation of $150 million to cancer center at the University of California, San Francisco
Under Steve Jobs, Apple also contributed to Stanford hospital:

Related Posts