When drones attack: Samsung's army of fake commenters attacks article ousting "dirty tricks"
Fortune article ousting Samsung's use of dirty tricks against HTC in Taiwan gets a visit by Samsung's comment drones.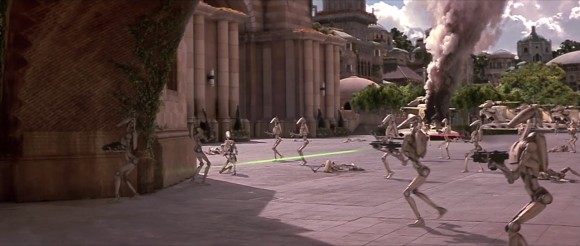 In "Did an Apple 2.0 story touch a nerve at Samsung HQ?" Philip Elmer-DeWitt described the action by Samsung's fake review army in response to the article about Samsung's dirty tricks (via The Loop):
"Twenty six hours later, we're up to 343 messages and counting […] what happened at about 2 a.m. EST — Sunday afternoon in Seoul, South Korea — was new.

In the space of a few hours, more than a thousand votes were cast on the DISQUS feedback system, voting down any comment remotely anti-Samsung and voting up anything — no matter how inane, in-artful or wrong — that disparaged Apple, the thesis, or me."
Be sure to read the article, which contains two outstanding commentaries censored by shameful Samsung drones.
Drone army image: Star Wars episode I

Related Posts