Apple 2013 Q2 financial: 65% iPad unit growth, record March quarter revenue of $43.6 billion
Apple posted record second quarter revenue, plus increased iPhone and iPad sales.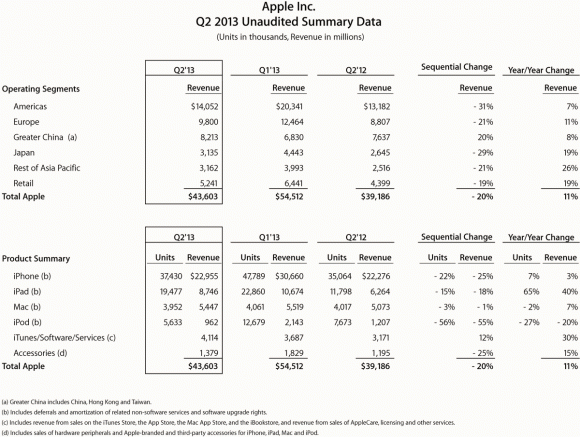 Despite all the Apple-is-doomed rumors, today, Apple announced 2013 Q2 financial results.
Quarterly revenue:
2012 Q2: $39.2 billion
2013 Q2: $43.6 billion, 11% growth year over year (YOY)
Net profit:
2012 Q2: $11.6 billion
2013 Q2: $9.5 billion
Gross margin:
2012 Q2: 47.4%
2013 Q2: 37.5%
iPhone sold:
2012 Q2: 35.1 million
2013 Q2: 37.4 million, 7% unit growth YOY
iPad sold:
2012 Q2: 11.8 million
2013 Q2: 19.5 million, 65% unit growth YOY
Mac sold:
2012 Q2: 4 million
2013 Q2: 4 million
Revenue is up across every market segment (Americas, Europe, greater China, Japan, rest of Asia Pacific, and retail). The net profit is down along with lower gross margins. ObamaPacman believes it's due to increase number of low margin iPad minis sold.
It's impressive to see 65% year over year growth of iPad. Steve Jobs is right that Apple will lead the post-PC world.

Related Posts