American Airlines iPad electronic flight bag [cockpit demo video]
A pilot explains how iPad Electronic Flight Bag (EFB) replaced heavy paper manuals and laptops on American Airlines.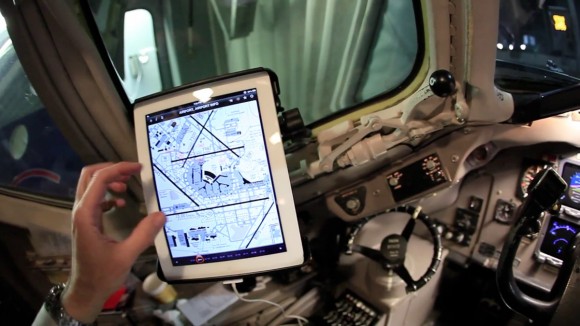 Video tour of iPad EFF in MD-80:
Kent Wien, a pilot who writes for the Gadling travel blog describes FAA approval process for the iPad EFF:
"To get that approval, American had to have the iPad tested in a hypobaric chamber to simulate how the device would handle during a rapid decompression. They also had to arrange for mount testing with the FAA, which is ironic since our manuals weigh far more than the iPad and aren't secured in place. Many takeoffs have resulted in a book or two sliding off the side table and onto the floor."
What about battery life and redundancy? Both pilot and co-pilot have an iPad, each with its own backup battery that can add 24 extra hours to each iPad ($169 – $349). The battery pack has high power 10W USB port that allows high speed charging of iPad. FAA is satisfied at that redundancy.
Ken noted in the comments section that updating paper maps used to take more than 60 "mind-numbing" hours per year. By using the iPad pilots saves that time.
And of course, iPad also saves airlines paper and fuel.

Related Posts