T-Mobile USA adds iPhone plans with HD Voice starting Friday April 12
The fourth largest mobile phone carrier in the US will start selling the Apple iPhone in three weeks with an unique feature.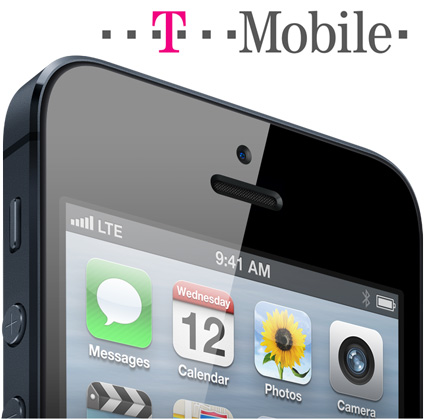 T-Mobile iPhone
While other major U.S. carriers require a 2 year contract with new phone, T-Mobile will sell the phone separately from its new no contract plan.
iPhone 5: $99.99 down and $20 per month for 24 months ($579.99)
iPhone 4S: $69.99 down and $20 per month for 24 months ($549.99)
iPhone 4: $14.99 down and $15 per month for 24 months ($374.99)
Your iPhone will be unlocked once the phone is paid in full. You can also bring your own unlocked iPhone the carrier. Apple sells unlocked iPhone 5 for $649.99, iPhone 4S for $549.99, and iPhone 4 for $450.
T-Mobile announced that it's the only US carrier with HD Voice for iPhone 5.
Customers can pre-order iPhone 5 beginning Friday, April 5. iPhone will be available on the carrier and its retailer stores on Friday, April 12.
T-Mobile Un-carrier phone plan
T-Mobile also introduced a new $50 per month "Simple Choice Plan", which includes:
Unlimited talk
Unlimited text
500MB 4G data
Unlimited 3G data
The text after that gets a little confusing. But here it is in bullet point:
Additional 2GB of 4G data: $10 per month per line
Unlimited 4G data: $20 more per month per line
Second phone line: $30 per month, additional lines $10 per month
Read the full announcement from T-Mobile.
When iPhone got released on Sprint, the Apple smartphone sets "best ever day of sales". Hope it does the same for T-Mobile, and Android will no longer have any safe haven in the U.S.

Related Posts