iOS 6.1.2 released with Exchange fix
Apple quickly released a fix for Exchange performance problems and possibly iOS 6.1 passcode bypass bug.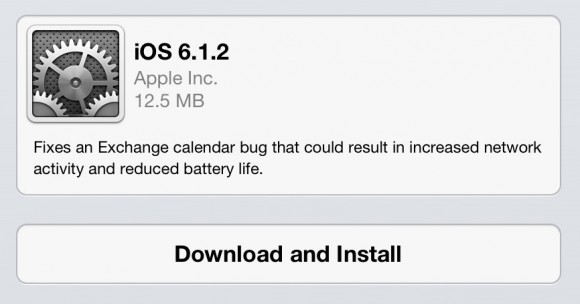 Exchange performance fix
Apple released iOS 6.1.2 today. Official release note:
"Fixes an Exchange calendar bug that could result in increased network activity and reduced battery life."
The full iOS 6.1.2 firmware is a 1GB download from iTunes. (Required if you jailbreak your device). If you don't jailbreak, you can download the update over the air on your device. The iOS 6.1.2 update is around 15MB for iPad, 25MB for iPhone
iOS 6.1 passcode bypass
UPDATE: other publications noted that the bug is not fixed. It's expected to be fixed with 6.1.3 that's coming shortly.
Five days ago, on February 14, an iOS 6.1 passcode bypass bug was publicized. The bug allowed someone with physical access to your iPhone ability to bypass passcode to access contact, photos, and make phone calls.
The bug seemed to be fixed. MacStories noted that "iPhone now simply gives a black screen/keypad" when attempting to bypass the passcode.
It was only last week that Apple released iOS 6.1.1 for iPhone 4S. Great to see some fast update cycles, unlike the sad history of Android support.

Related Posts