AT&T: iPhone 84% of 2012 Q4 smartphone activations
At United States' second largest provider of mobile phone services, iPhone continues to dominate Android, BlackBerry, and Windows Phone.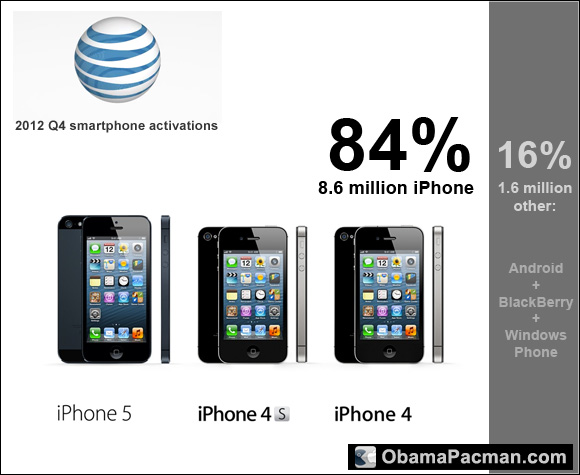 AT&T fourth quarter 2012 financial report:
"Record smartphone sales of 10.2 million, the most ever sold by any U.S. carrier; postpaid smartphone customer base now 47.1 million, up 2.5 million from third-quarter 2012…

In the quarter, the company activated a record 8.6 million iPhones, with 16 percent new to AT&T. The company also had its best-ever sales quarter for Android smartphones."
The exact numbers:
84% or 8.6 million Apple iPhone sold
16% or 1.6 million combined Android, BlackBerry, Windows Phone sold (and that's the best quarter ever for Android!)
AT&T also reported that "Smartphones 89 percent of postpaid phone sales". What does it mean? I see that in the mature market, where most people were able to try out an Android phone for at least 1 contract cycle, people choose the iPhone.
iPhone continues to be a success at the largest carrier in the US; here is Verizon's 2012 Q4 smartphone activations.

Related Posts