One Second Everyday – amazing video diary app [launch freebie]
Newly launched today, this amazing video diary app for iOS is on sale for a limited time. Download now.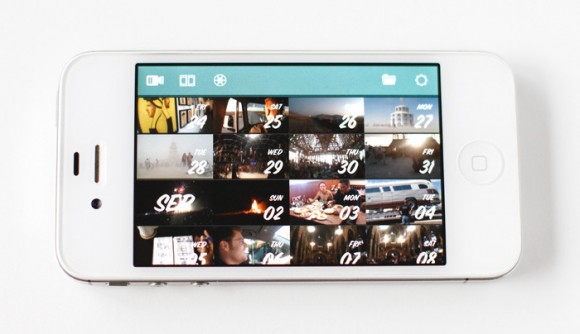 "Imagine a movie that includes every day of the rest of your life…"
Download the partly Kickstarter funded One Second Everyday app for iPhone and iPod touch by Cesar Kuriyama for free right now.
Why create the video diary app that consists of one second of video from each day? Cesar describes the app:
"For almost 2 years now, I've been recording 1 second every day, so I'll never forget another day ever again. This project has had such a profoundly positive impact on my life, that I've passionately developed an App that will make it extraordinarily easy for anyone to do this too.

Reliving every single day of my life at age 30 in 6 minutes has provided me with a treasured perspective on life. It holds me accountable for making each day count."
Feature summary of One Second Everyday:
Access videos from camera roll or record from app
"Keep multiple timelines! You could have one for yourself… for each of your kids… your dinner… what you wear every day… etc! Looking forward to endless creative interpretations!"
"Your seconds are privately held on your phone. You never have to share this with anyone if you don't want to. The primary purpose of this App is to help you remember your own life. Sharing is optional."
The seconds you selected are backed up to iCloud
You can optionally set up reminders to shoot video for each day
Here's him talking about the Kickstarter project:
Video: 1 Second Everyday – Age 30
Here's "1 Second Everyday – Age 30" video shown in Cesar's 2012 TED talk:
Cesar Kuriyama: "I am recording 1 second everyday for the rest of my life… this is me at age 30″. The video is shot on "almost entirely shot on iPhone 4 or 4S".
The website 1secondeveryday.com is down due to their lame web host inmotionhosting.com suspended the account, probably due to traffic.

Related Posts