iPhone 63% of Verizon 2012 Q4 smartphone activations
Verizon, the largest mobile phone carrier in the U.S. announced its holiday quarter smartphone sales.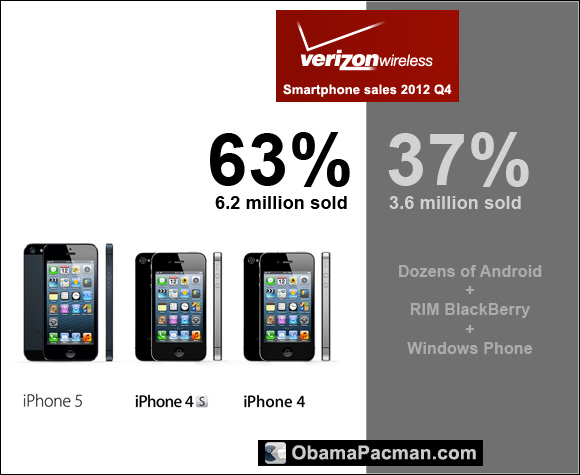 Gigaom reports Verizon Wireless 2012 fourth quarter smartphone sales:
"It sold 7.3 million LTE devices the last three months of 2012, and it activated 9.8 million smartphones in total. It activated 6.2 million iPhones, about half of which were the LTE-enabled iPhone 5."
To put that in perspective:
63% or 6.2 million Apple iPhone sold
17% or 3.6 million combined Android, BlackBerry, Windows Phone sold
iPhone leads despite Verizon launching eight new 4G LTE Android and Windows smartphones by Samsung, Motorola, HTC, Nokia, and LG during the quarter (DROID RAZR HD and DROID RAZR MAXX HD by Motorola; Windows Phone 8X by HTC; Nokia Lumia 822; Samsung Galaxy Note II; Spectrum 2 by LG; Samsung Galaxy Stratosphere II; and the DROID DNA by HTC).
There's still room for smartphone (aka iPhone) growth, as there are still 42% of postpaid market available, as noted by Verizon:
"At year-end 2012, smartphones accounted for more than 58 percent of the Verizon Wireless retail postpaid customer phone base, up from 53 percent at the end of third-quarter 2012."
Since its introduction at Verizion, iPhone consistently beat Android in smartphone sales in most quarters.
Illustration by ObamaPacman.

Related Posts