iOS 6.1 update released: features + download
Today Apple released iOS 6.1 for iPhone, iPad, and iPod touch.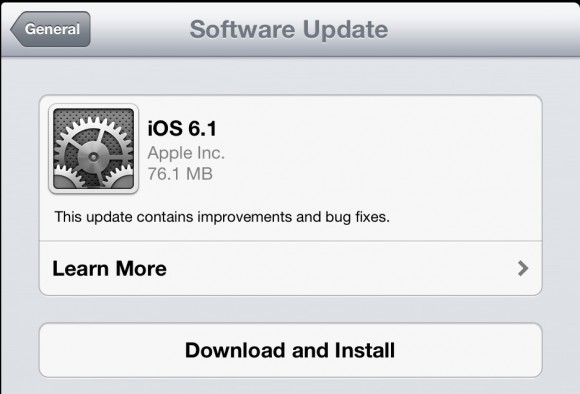 Apple iOS 6.1 update includes improvements such as:
LTE support for more carriers (complete list of supported carriers at www.apple.com/iphone/LTE/)
Purchase movie tickets through Fandango with Siri (USA only)
iTunes Match subscribers can now download individual songs from iCloud
New button to reset the Advertising Identifier
Ability to reset Advertising Identifier is an important addition for those who value privacy from Google and other advertisers that try to track users through ads in apps.
Apple announced that iOS 6.1 adds LTE to 36 additional iPhone carriers and 23 additional iPad carriers around the world. LTE is available on iPhone 5, iPad mini and fourth generation iPad Wi-Fi + Cellular models through select carriers.
Here are the security updates in iOS 6.1.
iOS 6.1 IPSW firmware download
Users can update directly from their iOS devices over the air (OTA), although some people might want to backup and update to the latest iOS firmware through iTunes. The iPad 3 WiFi OTA update is a 76MB but still required 999MB of free space, while the full firmware for update or restore using iTunes is 1.08GB download.
TheNextWeb listed these direct downloads.

Related Posts