FTC publishes weak Google "Competition Concerns" settlement for antitrust investigation
Weak FTC settlement includes bank busting $16,000 penalty for future Google violations.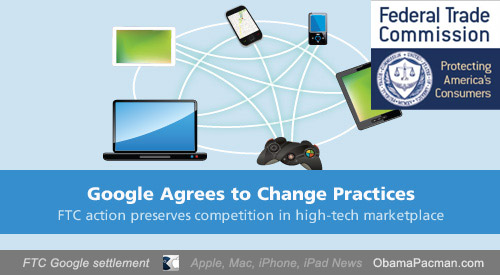 Well, just last year, FTC announced Google "Deceptive Privacy Practices" Results in 20 Years of Future Monitoring.
Today, the Federal Trade Commission published an agreement: "Google Agrees to Change Its Business Practices to Resolve FTC Competition Concerns In the Markets for Devices Like Smart Phones, Games and Tablets, and in Online Search". It pulls its own leg by calling it "FTC action preserves competition in high-tech marketplace". It contains three major points, here's our summary:
1) "Google will not seek injunctions to block rivals from using patents essential to key technologies"
Google cannot use its standard essential patents (SEPs) from its $12.5 billion purchase of Motorola Mobility to restrict competitor products from the market. Google needs to license the SEPs on fair, reasonable, and non-discriminatory (FRAND) terms as promised.
So Google can't use
This is good news for Apple and other competitors.
2) "Google will remove restrictions hampering advertisers' management of their ad campaigns across competing ad platforms"
"Google has agreed to remove restrictions on the use of its online search advertising platform, AdWords, that may make it more difficult for advertisers to coordinate online advertising campaigns across multiple platforms…

The FTC investigated allegations that Google misappropriated content, such as user reviews and star ratings, from competing websites in order to improve its own vertical offerings, such as Google Local and Google Shopping. Some FTC Commissioners were concerned that this conduct might chill firms' incentives to innovate on the Internet."
Basically, Google wanted content created by other platforms to be open to it, but restricts users of its own money making AdWords.
3) "FTC's investigation into allegations of search bias". Here's bad news for Google competitors:
"FTC concluded that the introduction of Universal Search, as well as additional changes made to Google's search algorithms – even those that may have had the effect of harming individual competitors – could be plausibly justified as innovations that improved Google's product and the experience of its users. It therefore has chosen to close the investigation."
What about the penalty that the FTC can impose?
"Each violation of such an order may result in a civil penalty of up to $16,000."
Such minuscule fine is not going to help the FTC mission of "protecting America's consumers". It would cost Google less to just continue to do evil and settle these tiny fines from the FTC then to pay its own lawyers. Let's hope the EU is tougher with Google's antitrust violations.

Related Posts