Apple closed at $500.00, stock manipulation?
Surely there is no stock manipulation here by investment companies here. None whatsoever.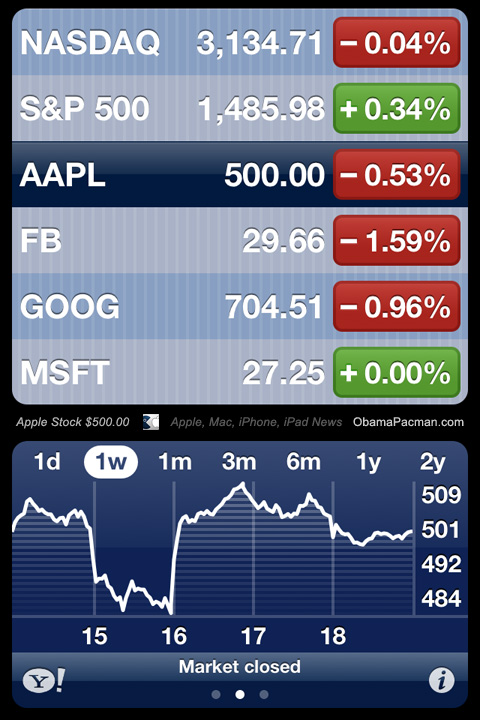 Today January 18, 2013, Apple stock (NASDAQ:AAPL) closed at exactly $500.00 on the cent.
In "AAPL: $500.00″, John Gruber explained that some why stock market manipulation took place:
"large institutional investors who'd sold options on Apple's stock back in the summer stood to profit by billions if AAPL closed today at $500 or under"
Apple's stock was about $520 last week. But on Sunday night, it just happened that an unsubstantiated rumor about Apple cutting iPhone component orders caused Apple stock price to drop enough to hover near $500 for this whole week.
Today, Apple has a price earning ratio of 11.33, a bargain compared to
Google P/E: 22.08
Facebook P/E: 153.68
Amazon P/E: 3239.52 (yes over three thousand)
Did the iPhone demand drop by half, as the unsubstantiated rumor claimed? How well did Apple did during the holiday quarter? ObamaPacman will let you know when the Q1 FY13 Apple Earnings Release conference call is held on Wednesday, January 23, 2013 at 5:00 p.m. ET / 2:00 p.m. PT.

Related Posts