Google Maps for iPhone released [review]
Google Maps for iOS is now available as a free download on the App Store. Here's our review.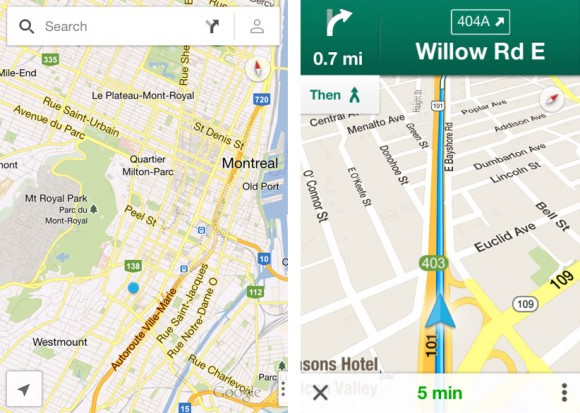 Download Google Maps. The app is currently made for iPhone, but works on iPad. Requires iOS 5.1 or later. Review based on v1.0 released on December 13, 2012. Screenshot made on iPad.
Google Maps for iOS features:
Voice guided turn-by-turn navigation
Shake to send feedback
Public transit directions
Street View, including interior of 100,000 businesses worldwide
Like
Google Maps data, which currently has better data than Apple Maps in many areas
Sync searches and favorites across devices
Map can now be rotated. Compass icon shows north if the map is rotated. Tapping it orientates the map
Locations you search shows distance in minutes
Restaurant reviews from Zagat
Dislike
Does not provide directions from Contacts
Multiple steps required to see phone number from business listing. Requires three steps: tap to expand, scroll down, then tapping "more info" (instead of 1 tap)
After 3 taps to see the phone number, you can't tap the number to call (so much for calling to make reservation or to confirm location hours for example)
When in directions mode, cannot see destination phone number or other details
Google Maps app is cluttered with prompts to sign in, we've counted 5 different screens:

App launch
Search bar
My profile page
Settings page
Transit direction page

While multiple screen spaces are dedicated to getting user to sign in, gesture tips are hidden under 3 menu levels: Profile Icon > Settings > Tutorials & help
Correct me if I'm wrong, but Street View seems to be by location search only. In Apple Maps with Google Maps data, click on any location on the map to drop a pin, then you can access street view
Contains listing reviews from Google places, which can be untrustworthy.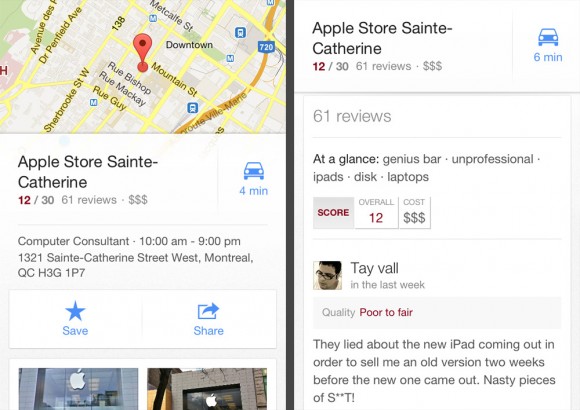 Here's an example of Apple Store Sainte-Catherine review. By Tay vall / Taymaz Valley in the "last week" which should mean December 2012:
"They lied about the new iPad coming out in order to sell me an old version two weeks before the new one came out. Nasty pieces of S**T!"
First, the fourth generation iPad was announced in October 2012, and just about every media outlet covered it. In addition, in reality Tay can easily get a refund from Apple Store in Canada and buy the new iPad, especially so with the extended refund policy for the holiday season.
Conclusion
If you need to use Google Maps data, then this is the app to get. However, it's missing some major features, so if you are still waiting to update to iOS 6, then perhaps wait until Google add those features first.

Related Posts