Auxo iOS Multitasking Tray jailbreak tweak to release Xmas eve [Update: released]
This amazing iOS App Switcher redesign was only a concept in October. Today, the jailbreak tweak is ready to be released for iPhone and iPod touch.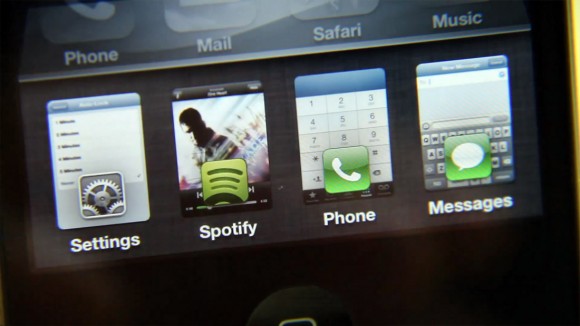 Concept by Sentry originally posted in Verge forums in October, Auxo iOS App Switcher replacement features:
App preview instead of just app icon
Refined music player
Swipe down to close app
2 rows of setting toggles for Bluetooth, WiFi, brightness, etc.
Movable toggles
Here's a detailed video demo by iDownloadBlog:
Looks as great as an official Apple feature. Now just how many people worked to created this extremely polished iOS jailbreak tweak? Sentry noted in the iDB comments:
"It was effectively done by one designer (me) and one developer (jack), as well as an assisting developer (jamie)."
Auxo details from @Sentry_NC:
The app will be released on Cydia
Made for iOS 6, there will also be iOS 5 support on launch [tweet]
Expected price is $1.99 [tweet]
As to the release date of Auxo:
iPhone / iPod touch version: "Submitting it today, will be out early tomorrow." – earlier Sunday night [tweet]
iPad version early next year, because they put development effort to get the iPhone version ready by year end
Update: iOS 5 support is delayed and would take one more week to release [tweet]
Although there is no jailbreak for iPhone 5 with iOS6 yet, there is tethered iOS 6 jailbreak is available for some older devices. Some people still use iOS 5 due to the untethered jailbreak. Hopefully Cydia creator Saurik will approve Auxo soon. Can't wait to use it.

Related Posts