Adobe adds Retina Display support for Photoshop & Illustrator CS6 [download]
As promised in August, Adobe released updates to Photoshop and Illustrator to support the high resolution Retina Display on the 2012 MacBook Pro.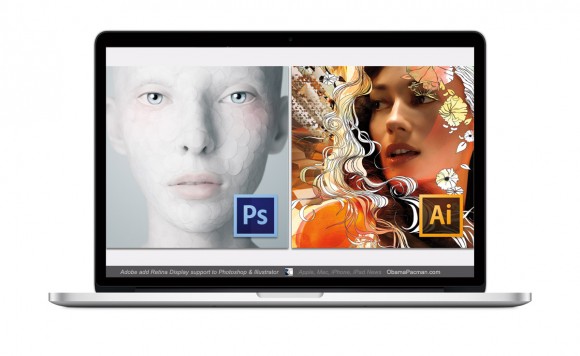 The news is not yet on the Adobe newsroom. Instead, it is announced on the Illustrator blog (via Macrumors):
"The Illustrator team is happy to annonce support for HiDPI and Retina display support for Illustrator CS6 customers. This update is available to all Illustrator CS6 customers, both Creative Cloud members as well as owners of perpetual products.

With this update, customers can see more detail in images, text, and in the Illustrator user interface when working on high-resolution displays, including the new Retina display available on MacBook Pro. The HiDPI feature in Illustrator is currently only available on Mac OS."
Both the icons and the canvas will support Apple's high resolution Retina Display. Adobe is expected to officially announce the update to Adobe Creative Cloud / Photoshop later today, December 11 at 10 AM PT (1PM ET).
How to update Photoshop & Illustrator with Retina Display Support
To update CS6 with Retina Display support, open Photoshop or Illustrator. Go to the Help menu and select Updates.
The update is not available on the Adobe website download page at this time, as these most recent CS6 for Mac updates came out in August: Adobe Photoshop CS6 13.0.1 / Adobe Illustrator CS6 16.0.1.
Apple released the 15-Inch MacBook Pro with Retina Display in June and 13-Inch Retina MacBook Pro in October.
PS. Dear Adobe, the blog entry has a typo: "annonce".
Illustration composite by ObamaPacman.

Related Posts