Apple introduces 13-Inch MacBook Pro with IPS Retina Display
The new 13-Inch MacBook Pro is thinner and whole one pound lighter.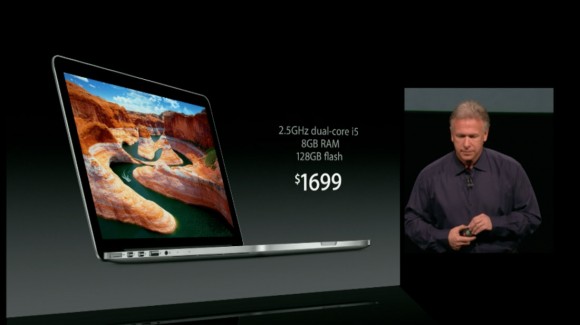 It'll come with Retina display with high quality IPS panels with resolution of 2560 x 1600 pixels, almost double pixels of a 1080P HDTV. 178 degree viewing angle with 300 nits brightness. 2012 13-Inch MacBook Pro with Retina Display specs:
0.75 Inch thick
3.57 pounds
MagSafe 2
2x Thunderbolt
2x USB 3
Headphone
HDMI
SD card
Dual mics
HD iSight camera
Price starting at:
2.5GHz dual-core i5 (i7 available)
8GB RAM
128GB SSD flash storage
$1699
Available today. Existing 13-Inch MacBook Pro will still be available from $1199 (less if you buy refurb). The 15-Inch MacBook Pro with Retina display is available starting $2199.

Related Posts