iPhone 5 Maps Turn-By-Turn Navigation vs. Android / Car GPS
Test of Apple maps on iPhone vs. Google Maps on Samsung Galaxy Note vs. car GPS.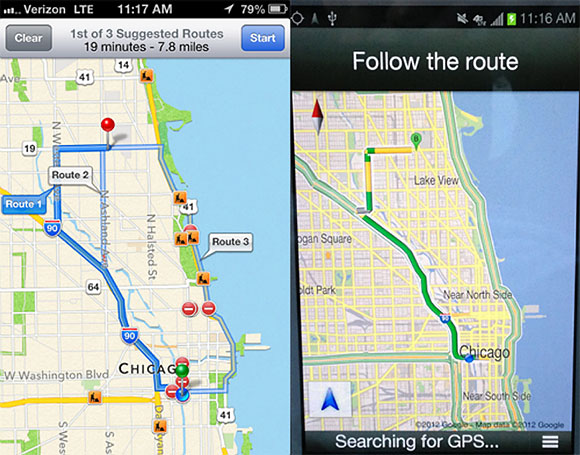 David Thomas tested iOS 6 iPhone Maps app for Cars.com blog. After two weeks of testing near Chicago:
"The iPhone's maps certainly are far from perfect, but the turn-by-turn navigation functions are as good as any I've seen."
Is the Apple Maps full of fail? Yes, there are hiccups that Google Maps also experienced, his review noted some iPhone benefits:
The iPhone 5 display clarity is superior than the 7-Inch GPS display in the GMC Terrain Denali and that of the 5.3-inch Samsung Galaxy Note. The Samsung device is "severely affected by glare from the noon sun, whereas the iPhone's screen wasn't."
Apple Maps shows 3 alternative routes by default, where the Android device requires multiple steps to show it.
iPhone was compatible with the car's multimedia sound system, whether the Samsung was not.

Related Posts